PRAGUE, 25 January 2006 (RFE/RL) -- Larijani said today in Moscow that the proposal to set up a joint venture on Russian territory to enrich uranium is a good idea. But he added that Tehran believes the idea needs to be "improved" during talks scheduled for 16 February. According to earlier reports, those talks will be held in Moscow. Larijani said future negotiations will include discussion of the location of the facility and the nature of the political and technical cooperation involved.
Iran had originally said that it will only entertain propositions that "recognize the right of the Islamic Republic to carry out enrichment on its own soil." But Iranian officials said they will continue examining the Russian offer, about which talks were reportedly held last month in Tehran.
IAEA To Meet On 2 February
The Russian proposal, backed by the United States and the EU, is aimed at allaying concerns that Tehran may be seeking to produce nuclear weapons. Enriched uranium can be used as fuel for civilian nuclear reactors, but it can also be used to produce nuclear bombs.
Larijani said today that the Iran welcomes the involvement of other countries.
Iran's positive assessment of the Russian proposal comes a week ahead of a crucial 2 February IAEA board meeting on Iran, called by the so-called EU-3 of Germany, France, and Great Britain after Iran broke UN seals on equipment at its Natanz uranium-enrichment facility on 10 January.
Moscow And Beijing Yet To Weigh In
The United States and EU-3 believe the UN Security Council should take up Iran's nuclear case, and they are actively trying to gain the support of Russia and China for such a move.
But, thus far they have met resistance from Beijing and Moscow, which both have economic interests in Iran.
Mark Fitzpatrick, a senior fellow for nonproliferation issues at the International Institute for Strategic Studies in London, tells RFE/RL that Iran is trying to persuade Russia to resist efforts to send Iran's nuclear dossier to the Security Council.
Buying Time?
Iran is definitely trying to buy time by promoting this decision in this way," Fitzpatrick said. "I don't know whether they have made any decision that they could go along with only enriching in Russia. It seems that Russia, and also Germany, believe that the proposal is not dead. What I think Iran is trying to do is to begin with the Russian proposal but negotiate a compromise that would allow some enrichment in Iran, some research...and that part of it will be unacceptable to the West."
Vladimir Orlov is the director of the Moscow-based Center for Policy Studies in Russia and director of the European Security Program at the Geneva Center for Security Policy. He says it is not clear yet whether Iran is genuinely interested in the Russian proposal, or whether the positive assessment is a tactical move by Iran to buy time ahead of the IAEA meeting.
"I still don't know whether their interest in discussing practicalities is a sign that we really will move toward the next step of negotiations between Russia, Iran, and probably some others on how to enrich uranium outside Iranian territory but for Iran to have all legal rights for those works," Orlov said. "We should see, Iran maybe really wants to go in that direction or maybe its just trying to win some time. If it is the latter then I would say Russia's position would be as strong and firm as Russia's European partners."
"Within The Framework Of The IAEA"
On 24 January, following talks between Russian Security Council Secretary Ivanov and Larijani, Ivanov's office issued a statement saying "both sides expressed their desire to solve the issue in a diplomatic way within the framework of the International Atomic Energy Agency."
Despite the statement, Orlov says Russia's position is conditional and will depend on Iran's future moves and decisions.
"Russia's position is conditional upon the way Iran behaves, so nothing has been decided yet because we see quite a number of moves from Iranians in recent weeks from their decision not to continue negotiations with the EU to do what they want to do without any consultation with Europe to a more constructive approach to the Russian initiative," Orlov said.
Meanwhile, "The New York Times" on 25 January quoted unidentified diplomats as saying that the foreign ministers of the UN Security Council's five permanent members and Germany will meet in London on 30 January in an effort to forge a common position before the 2 February IAEA meeting in Vienna.
U.S. IAEA Governor Gregory Schulte
U.S. IAEA Governor Gregory Schulte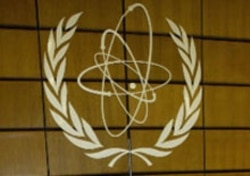 THE INTERNATIONAL COMMUNITY SPEAKS: Listen to excerpts from a November 22 Radio Farda interview with Gregory Schulte, the U.S. representative on the Board of Governors of the International Atomic Energy Agency (IAEA).


LISTEN
Listen to the complete interview:
Real Audio
Windows Media
THE COMPLETE STORY:
For RFE/RL's complete coverage of controversy surrounding Iran's nuclear program,
click here.
CHRONOLOGY: An annotated timeline of Iran's nuclear program.