Palestinian Prime Minister Ahmed Qurei has announced his intention to resign and said Hamas should now form a new Palestinian government. Analysts say the results are certain to heighten tensions with Israel and, for now, put the Middle East peace process in deep freeze.
Speaking today to reporters in the West Bank city of Ramallah, Qurei said he had sent his resignation to Palestinian Authority President Mahmud Abbas.
"This is the choice of the people. It should be respected. I think if the [Hamas] majority is approved -- as it now has been -- I think Hamas should form a new government," Qurei said.
Israel Will 'Not Accept' A Hamas Government
This morning acting Israeli Prime Minister Ehud Olmert said the Jewish state would not accept a Palestinian government in which the militant Islamic organization Hamas has a role.
The release of official preliminary results from the 25 January polls have been delayed until later today.
But the consensus result based on statements by Hamas, officials such as Qurei of the longtime ruling party Fatah, and the Palestinian election commission is that Hamas has in fact won an absolute majority in voting for the 132-seat Palestinian Legislative Council.
"Hamas won up to 75 seats in parliament according to initial results of the election," Hamas spokesman Sami Abu Zuhrin told supporters in Gaza City. "In the light of these results, Hamas will begin consultations with political parties, with [Palestinian Authority] President Mahmud Abbas ,and Fatah brothers to determine the shape of political partnership in the coming stage. We want to strive for a Palestinian body that will unite all the parties on the base of an independent political agenda."
Turnout High
Turnout was reported high among some 1.4 million eligible voters. Analysts say many of them turned for Hamas, which also runs a network of charities, because of years of corrupt and inefficient rule by Fatah, the party of late Yasser Arafat.
While that may explain their choice, Israeli elder statesman and Vice Premier Shimon Peres said on 26 January in Jerusalem that Hamas still wants what he called "unilateral war."
"We shall not change our position," Peres said. "If Hamas doesn't want peace, doesn't want negotiations, if they want to continue their terrorist activities, I don't think they will have any support from outside and from Israel."
Considered A Terrorist Organization
The United States, Israel, and the European Union consider Hamas a terrorist organization.
So far, the United States and other major powers have yet to react officially to the dramatic developments, which look certain to send a jolt through the region.
Like Israel, Washington has warned that it would not deal with Hamas should the militant group, which has claimed responsibility for 60 suicide bombings since 2000, join the Palestinian government.
The European Union, the largest provider of financial aid to the Palestinians, had also threatened to review its assistance in the event of victory by Hamas, which is committed to the destruction of the state of Israel.
However, EU External Relations Commissioner Benita Ferrero-Waldner said today the EU is ready to work with any Palestinian government as long as it intends to pursue a peaceful solution of the Middle East conflict.
There has been little other international reaction, although Italian Prime Minister Silvio Berlusconi said the outcome was "a very, very, very bad result."
Ready To Form A Coalition
Political analyst Amir Makhul heads a union of Arab-community, nongovernmental organizations in Israel. Speaking from the coastal city of Haifa on 26 January, Makhul told RFE/RL the international community has no choice but to recognize the election results.
"I think the world, the international community should support these results, as they are, and should try to communicate with Hamas and try to communicate with Fatah," Makhul said. "It's not an issue that it could be so easy to take these results or to cancel them. This reflects the will of the Palestinian people under occupation. Maybe in other circumstances the results would be very different."
With an outright majority, Hamas technically does not need support from other parties to form a governing coalition.
However, Hamas appears set to seek just such a coalition.
In a statement posted on its website, Hamas said its top leader, Syria-based Khalid Mish'al, had called Abbas to tell him Hamas is ready for a political partnership with the defeated Fatah party. The statement said Mashaal stressed the importance of a partnership with all Palestinian factions.
Other reports said Abbas is expected to travel soon to Gaza to meet with Hamas leaders for talks on forming a cabinet.
A Weakened President
But Abbas, even before the elections, was not seen as wielding significant power. Now, the soft-spoken moderate -- also known as Abu Mazen -- is likely to see his authority wane even further.
"Hamas has the upper hand today," Israeli political analyst Yossi Mekelberg said on 26 January. "Abu Mazen was not the most powerful or strongest of leaders before yesterday. Today, he is a much-weakened leader, and I have no doubt that Hamas will let him know that. And gradually, if this is the case, he will be forced, I believe, to resign and call new presidential elections, because he won't be able to execute any policy that he had in mind."
Mekelberg adds that a Hamas victory is also likely to strengthen the Israeli right-wing two months before Israeli general elections.
"On the face of it, it seems like it would enhance the position of the right-wing in Israel," Mekelberg said. "This, at least, would be the gut reaction or knee-jerk reaction, I believe, in Israel. But let's wait and see."
Acting Israeli Prime Minister Olmert had hinted this week that Israel could take more unilateral moves – such as last summer's withdrawal from the Gaza Strip -- if Israel feels it has no Palestinian leadership with which it can talk.
Islam In A Pluralistic World
Islam In A Pluralistic World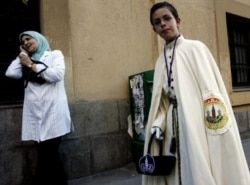 A Muslim woman (left) watches a Christian procession in Madrid in March (AFP)


READ
CONFERENCE ON ISLAM:
A major international conference on Islam concluded in Vienna in November 2005 with strong appeals from prominent Muslim leaders to recognize international terrorism as simply "terrorism." Political figures from Islamic countries, including the presidents of Iraq and Afghanistan, argued that it should never be labeled "Islamic" or "Muslim" terrorism because Islam is based on peace, dialogue, and tolerance. "Salaam" -- meaning "peace" -- was the key word of the three-day conference, titled "
ISLAM IN A PLURALISTIC WORLD
."
Iraqi President Jalal Talibani and Afghan President Hamid Karzai used the word in their remarks to emphasize the peaceful nature of Islam. Other speakers quoted passages from the Koran to the effect that all men and women, regardless of faith, are creatures of God and should live in peace with each other without discrimination
...(more)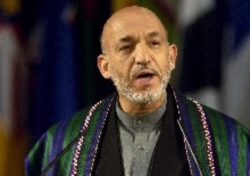 LISTEN
Listen to Afghan President
HAMID KARZAI
's complete address to the Vienna conference (in English):
Real Audio
Windows Media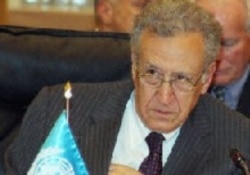 LISTEN
Listen to UN special envoy
LAKHDAR BRAHIMI
's complete address to the Vienna conference (in English):
Real Audio
Windows Media
THE COMPLETE PICTURE:
Click on the image to view a thematic webpage devoted to issues of religious tolerance in RFE/RL's broadcast region and around the globe.