Armenia/Azerbaijan: Will Presidents' Meeting Yield Progress Toward Karabakh Peace Deal?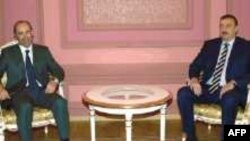 Kocharian (left) and Aliyev at an August 2005 meeting in Kazan (AFP) Recent talks between Armenia's and Azerbaijan's foreign ministers failed to shed much light on the likelihood of a major breakthrough in the Karabakh peace process.
The discussions, held in London on 18-19 January under the aegis of the OSCE Minsk Group, were being watched closely for any indication that a February meeting between Armenian President Robert Kocharian and Azerbaijani President Ilham Aliyev might result in a compromise.
Uncertainty Of Principles
Armenian Foreign Minister Vartan Oskanian did confirm the day after the London talks that the two sides are seeking to reach agreement on a half-page document that enumerates general principles that could then form the basis for a more detailed peace plan. But Oskanian said that while the two sides' positions vis-a-vis some of those principles have drawn closer, on others their positions are still far apart, RFE/RL's Armenian Service reported.
Day.az on 26 January similarly quoted Mammadyarov as telling journalists in Baku that the two sides are still trying to reach agreement on the "general principles." It therefore remains unclear whether the two countries' presidents will indeed succeed in reaching a compromise on the contested points, let alone publicly endorse those basic principles, during their upcoming summit near Paris, which Kocharian's spokesman has said will take place on 10 February. Azerbaijani presidential administration official Novruz Mammadov hinted in a 20 January interview with the online daily echo-az com that it is unlikely the two presidents will sign any agreements during their "first meeting of the year."
The basic principles have formed the focus of what has become known as the Prague process talks between Oskanian and Mammadyarov (so-called because the first few meetings took place inPrague in the summer of 2004 and January 2005). On 7 June 2005, Mammadyarov told journalists in Baku that the two sides were discussing between seven and nine issues relatedto a peace settlement, and that those issues had to be addressed in a specific order, with each made secure before the following is added, "like pearls knotted on a silk thread."
The Blueprints
Mammadyarov said Azerbaijan insists on the liberation of the seven Azerbaijani districts bordering on Karabakh that are currently occupied by Armenian forces. He also claimed the two sides were discussing which countries or organizations could provide peacekeeping forces to be deployed on those territories after their liberation, according to day.az. Echo-az.com quoted Mammadyarov as saying that the two sides were discussing both "phased" and "package" approaches to resolving the conflict. But a senior Armenian Foreign Ministry official told RFE/RL on 8 June on condition of anonymity that the final agreement will be a package one, although its various provisions may be implemented one after the other, rather than simultaneously.
Then, in early July 2005, a senior Armenian official told RFE/RL's Armenian Service that under the anticipated peace deal, Armenia would return to Azerbaijani control five of the seven Azerbaijani districts adjacent to Karabakh currently occupied by Karabakh Armenian forces, not including the strategic Lacin corridor. An international peacekeeping force would be deployed in the conflict zone under the aegis of the OSCE. Then, at some unspecified future date the population of the unrecognized Nagorno-Karabakh Republic would be required to vote in a referendum on the region's future status.
That blueprint is very similar to those proposed in December 2004 by former Spanish Foreign Minister Ana Palacio and NATO Parliamentary Assembly President Pierre Lellouche; and by the International Crisis Group in a document released on 11 October 2005, although the ICG plan envisages the withdrawal of Armenian forces from all seven occupied Azerbaijani districts including Lacin.
Haik Kotandjian, an adviser to Armenian Defense Minister Serzh Sarkisian, outlined an alternative "road map" for resolving the conflict in a 22 November interview with regnum.ru. That three-stage plan comprised the same elements, but in reverse order: it envisaged a referendum on the status of the NKR, followed by the deployment of international peacekeepers and the simultaneous withdrawal of Armenian forces from five of the occupied districts (not including Lacin and Kalbacar); the third stage comprised the rehabilitation of the conflict zone.
Near Successes
In early July 2005, Armenian officials told RFE/RL's Armenian Service that Armenia and Azerbaijan had reached agreement on the key points of a formal peace accord ending the Karabakh conflict, and that agreement could be signed by the end of this year. The two ministers, and the two presidents, subsequently met in late August in Kazan on the sidelines of a CIS summit, but failed to announce any major progress toward a settlement. Then, on 4 December, Oskanian told RFE/RL that he and Mammadyarov failed during talks in Ljubljana on the sidelines of the OSCE foreign ministers' annual meeting to agree on a date for the next meeting between the two presidents -- a meeting that Oskanian hinted could prove a pivotal moment in the search or a settlement.
But despite that failure to schedule a meeting between the two presidents, preparations were launched for one aspect of a peace settlement: provision was made for a high-level OSCE planning group to visit the Karabakh conflict zone to assess the requirements for deploying an international peacekeeping force in the event of the withdrawal of the Armenian forces from the Azerbaijani territory contiguous to the unrecognized Nagorno-Karabakh Republic that they currently occupy. Noyan Tapan reported on 22 January the arrival of that delegation in Stepanakert.
In a 19 January interview with APA news agency that was posted the following day on day.az, Azerbaijani presidential administration official Mammadov said that Azerbaijan's overriding priorities are for Armenia to agree to a settlement of the conflict that would preserve Azerbaijan's territorial integrity, and the withdrawal of Armenian forces from occupied Azerbaijani territory. Mammadov dismissed as "unimportant" the issue of including representatives of the NKR in the peace process, which the ICG plan advocates. He said that peacekeeping forces should be deployed along the entire length of the Armenian-Azerbaijani border and "between Armenian- and Azerbaijani-populated villages." He said it was premature to discuss the possibility of a referendum, which would, he estimated, be held only in 15-20 years' time.
Deputy Foreign Minister Araz Azimov, President Aliyev's special representative for the Karabakh talks, was more categorical, telling journalists in Baku on 23 January that talk of a referendum is no more than "rumors," day.az reported.
Reality Check
Neither Mammadov nor Azimov appears to have made the crucial point, noted on 19 January by the online daily zerkalo.az, that Article 3 of the Azerbaijani Constitution explicitly bars the possibility of changes to the country's borders being submitted to a nationwide referendum. For such a referendum to take place, a preliminary referendum would first have to be held to amend those articles of the constitution, and few Azerbaijani voters are likely to endorse any amendments that would facilitate the loss of Azerbaijani jurisdiction over Karabakh.
Even if the two presidents succeed during the coming year in finalizing a set of "general principles" intended to serve as the blueprint for a more detailed peace plan, there is still no guarantee that one side or the other will not find it expedient to renege on them at some future date. The so-called "Paris Principles" agreed on in the spring of 2001 were elaborated on in further talks in Florida in April 2001 and during subsequent meetings between Kocharian and Ilham Aliyev's father and predecessor, Heydar Aliyev. U.S. diplomat Rudolf Perina, who served as the U.S. Minsk Group co-chairman during those talks, later revealed that in 2002 the two sides came "incredibly close" to hammering out a peace agreement. But Armenian officials say Baku reneged on that deal shortly before a planned summit between Kocharian and Heydar Aliyev in June 2002 that was cancelled at the last minute.
Turkish Foreign Minister Abdullah Gul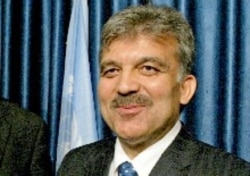 On January 25, RFE/RL Azerbaijani Service correspondent Mayis Alizade spoke with Turkish Foreign Minister ABDULLAH GUL about prospects for a breakthrough in resolving the Nagorno-Karabakh conflict.
RFE/RL: The general understanding is that 2006 might be the year for a breakthrough in the Nagorno-Karabakh conflict....
GUL: We hope an acceptable resolution will be reached in 2006. Our concern is that other factors might hinder [this process] if it is delayed and no solution can be found. The solution of this conflict would greatly ease the situation in the Caucasus.
RFE/RL: After a long controversy and discussion at the Parliamentary Assembly of the Council of Europe, the Azerbaijani delegation's credentials were approved. But, pointing to the shortcomings in democratization and reforms, PACE Raporteur Andreas Gross said PACE has been monitoring the situation in Azerbaijan for the last five years and there is no major improvement.
GUL: This is an important process. Every country goes through it. To boost democracy and reforms is something to benefit the countries themselves, and one should not leave it only to the European Council and the European Parliament. I am sure that, if there are problems [with regard to these reforms], the Azerbaijani government will deal with them, and these problems will be resolved. I believe the Council of Europe is very important for Azerbaijan. It wasn't easy to get to there. I know that myself because I worked for it quite hard.
RFE/RL: You are saying Azerbaijan should appreciate the Council of Europe's value?
GUL: No, both sides should appreciate [this relationship]. The Council of Europe is very important for Azerbaijan, as is Azerbaijan for the Council of Europe as an important country of the Caucasus. One should work to solve any problems.
For a complete archive of RFE/RL's coverage of the Nagorno-Karabakh conflict, click here.