Poland Mourns Victims Of Roof Collapse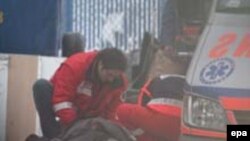 Rescue workers help a victim of the roof collapse in Katowice (epa) 30 January 2006 -- Polish President Lech Kaczynski has declared three days of national mourning for the 66 people killed when a roof collapsed on 28 January at an exhibition hall in southern Poland.
Kaczynski visited the site in the town of Katowice yesterday and called the event "the biggest catastrophe in democratic Poland." He said he would personally oversee an investigation into why the accident happened, and he said similar collapses must not be allowed to happen in the future.
A spokesman for the Silesian regional government said last night that the search for more survivors in the wreckage has been called off.
Rescuers worked throughout the night of 28 January to find people still trapped in the wreckage, but fears grew as temperatures dipped to minus 15 degrees Celsius.
At least 140 people were injured. Some 500 people from across Europe were in the building at the time, attending an exhibition of carrier pigeons.
It was unclear whether snow on the roof contributed to the collapse or whether the accident was the result of structural problems.
(dpa, AFP, Reuters, AP)