A top U.S. diplomat, Undersecretary of State Nicholas Burns, said such moves would be an "additional miscalculation" that would further isolate Iran internationally.
The Iranian nuclear case is expected to be forwarded to the Security Council at a meeting on 2 February of the governing board of the UN's International Atomic Energy Agency (IAEA) in Vienna. The Security Council's five permanent members -- the United States, Russia, China, Britain, and France -- have backed the referral.
Iranian Foreign Minister Manuchehr Mottaki warned on Iranian television late on 31 January that a referral to the Security Council would result in Iran halting cooperation with the IAEA as of 4 February.
Officials at the IAEA said Iran has begun preparations for enriching uranium, a process which can produce material for nuclear reactors or atomic bombs.
Iran denies allegations that it is secretly trying to make a nuclear weapon, saying its atomic program is for peaceful purposes only.
(compiled from agency reports)
Who's Got The Bomb?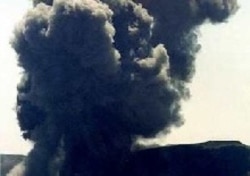 DECLARED NUCLEAR-WEAPONS COUNTRIES:
country warheads (est.) date of first test
United States 10,500 1945
Russia 18,000 1949
United Kingdom 200 1952
France 350 1960
China 400 1964
India 60-90 1974
Pakistan 28-48 1998
North Korea 0-18 2006
Notes:
Israel is widely believed to possess nuclear weapons, but it has not declared itself a nuclear-armed country.
South Africa constructed six uranium bombs but voluntarily dismantled them.
Belarus, Kazakhstan, and Ukraine all gave up the nuclear weapons that were on their territory when the Soviet Union collapsed in 1991.