Ukraine To Evacuate Children From Freezing City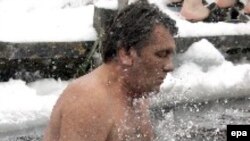 Ukrainian President Yushchenko takes a dip in the icy-cold waters of the Dniepr River during Epiphany celebrations on 19 January (epa) 1 February 2006 -- A first group of some 650 children is to be evacuated today from an eastern Ukrainian city that has been without heating since 22 January.
On a visit to the city of Alchevsk on 30 January, President Viktor Yushchenko blamed local authorities for the crisis, which began when a key heating pipe failed in sub-freezing temperatures.
Reports said heating has been restored to about one-third of Alchevsk 45,000 residents.
The Ukrainian Health Ministry said on 1 February that 589 people died from the cold in January during a 15-day period of record-low temperatures. Temperatures have since risen to more normal winter levels.
(Interfax-Ukraine, AP)
RFE/RL Belarus, Ukraine, And Moldova Report

SUBSCRIBE For weekly news and analysis on Belarus, Ukraine, and Moldova by e-mail,
subscribe to "RFE/RL Belarus, Ukraine, And Moldova Report."