Romania To Help File Suit Against U.S. Marine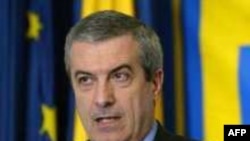 Romanian Prime Minister Popescu-Tariceanu said he found it "bizarre" that a military court cleared the U.S. Marine (file photo) (AFP) 1 February 2006 -- Romanian Prime Minister Calin Popescu-Tariceanu today said his government would help the family of a musician killed in a road accident to file a civil case against the U.S. Marine who was driving a car involved in the crash.
Teofil Peter, of the rock band Compact, died in December 2004 after his taxi was hit by a U.S. Embassy car driven by U.S. Marine Christopher VanGoethem.
Romanian police said the Marine allegedly failed to yield at an intersection in Bucharest and hit the taxi.
VanGoethem left the country immediately after the accident.
A U.S. court martial yesterday cleared VanGoethem of the most serious charge, negligent homicide.
Popescu-Tariceanu today called the verdict "surprising" and "bizarre."
Foreign Minister Mihai Razvan Ungureanu today summoned US Ambassador Nicholas F. Taubman to express, in his words, "deep concern" at the verdict.
(AP, Realitatea TV)