"Given what Iran is doing, not just in respect of the breach of its obligations in respect of nuclear weapons, but also in exporting terrorism around the region, in what it's doing in human rights, it is important surely at this moment above all else that we say they have to come back into compliance with their international obligations, and we, all of us, support the action necessary to do so," he said.
Blair was speaking at the British Parliament's House of Commons in London following a meeting yesterday between British Foreign Secretary Jack Straw and his Iranian counterpart, Manuchehr Mottaki.
IAEA Meeting Today
Before the talks, Straw said the international community had given Iran a "final opportunity" to meet its nuclear obligations.
On 30 January, the five permanent UN Security Council members agreed that the International Atomic Energy Agency, or IAEA, should report Iran to the council over its nuclear program, a move that could eventually lead to sanctions. The IAEA board of governors is meeting in Vienna today.
President Mahmud Ahmadinejad said today Iran will resist Western pressures and complete its nuclear program. Iran's top nuclear negotiator, Ali Larijani, reiterated threats that Iran would start large-scale uranium enrichment and stop UN inspections of its facilities.
(Reuters, AFP)
Who's Got The Bomb?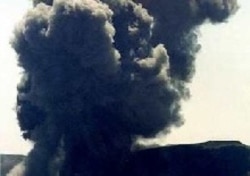 DECLARED NUCLEAR-WEAPONS COUNTRIES:
country warheads (est.) date of first test
United States 10,500 1945
Russia 18,000 1949
United Kingdom 200 1952
France 350 1960
China 400 1964
India 60-90 1974
Pakistan 28-48 1998
North Korea 0-18 2006
Notes:
Israel is widely believed to possess nuclear weapons, but it has not declared itself a nuclear-armed country.
South Africa constructed six uranium bombs but voluntarily dismantled them.
Belarus, Kazakhstan, and Ukraine all gave up the nuclear weapons that were on their territory when the Soviet Union collapsed in 1991.