RFE/RL:
Both U.S. Secretary of State Condoleezza Rice and new German Chancellor Angela Merkel have publicly expressed their concern about the new Russian law on NGOs. Nevertheless, a recent scandal erupted over the alleged British "spy rock" implicating two respected NGOs in Russia -- the Moscow Helsinki Group and the Eurasia Foundation. Is there any sense at the U.S. State Department that the warnings about the NGOs are falling on deaf ears in Moscow?
Barry Lowenkron:
No, I think that we have weighed in quietly as well with President [Vladimir] Putin and Secretary of the Foreign Ministry [Sergei] Lavrov. We have registered our concerns, and others in Russia themselves have registered their concerns. And I think there were a number of improvements between the first reading of the bill in the Duma and the final one that President Putin signed.
Having said that, I think that there is a fundamental misunderstanding [in Russia] as to what NGO activity is all about. It seems as if [the belief is that] the United States or the U.S. government or the West directs the activities of NGOs in order to weaken Russia, or in order to advance, as one Russian said, "your own geopolitical games in our neighborhood." And nothing could be farther from the truth. The fact of the matter is that the work of the NGOs has been completely open and transparent. There has been bipartisan support. We have been above board in terms of helping Russians themselves organize themselves in a whole range of activities, from helping the media, to the forming of political parties, to weighing in on their concerns. This is what democracy is all about; this is what NGOs are all about.
I told Russian officials when I was in Moscow that NGO activities have become part and parcel of international politics. NGOs can support governments, they can criticize governments, but they should never be viewed as enemies of governments.
RFE/RL:
As you suggested, there is a widespread perception in Russia and countries around Russia that American taxpayers sponsored the 2004 Orange Revolution in Ukraine using NGOs. Assuming that you disagree with this characterization about the Orange Revolution, what can the United States do to dispel this widely held impression? This impression, of course, has added fuel to rising sentiment against NGOs, not just in Russia, but also in Central Asia.
Lowenkron:
I would say that there is pressure against NGOs in Russia, and in Central Asia, and China, and worldwide. In fact, this is a growing phenomenon.
Secretary of State Rice made it clear that democracy by its very definition cannot be imposed. So what NGOs have done is they have offered, they have volunteered, they have helped local organizations -- as was the case in Ukraine -- to try to organize working in a multilateral setting to say, "Look, let's have open, fair, transparent elections." When the Organization for Security and Cooperation in Europe [OSCE] itself raises questions, when observers raise questions, about the first round of elections in Ukraine, then everybody needs to take notice. When NGOs ask for help -- when they ask for help in terms of how to organize, when they ask for help in terms of how to observe elections -- then I think American taxpayers, or German taxpayers, or taxpayers anywhere around the world that support NGOs are very comfortable offering that. It's all been above board. Nobody gets on a plane with sacks of money and flies into Kyiv or any other capital and says, "Here, go ahead and overthrow a legitimate order." That's sheer nonsense.
RFE/RL:
Election monitoring is generally considered a very benign and necessary activity, but because it is related to elections which are so heated in these countries, isn't it always going to be a source of suspicion? Should the United States entertain the option of pulling back from anything that seems close to the political sphere in order to dispel such suspicions?
Lowenkron:
But I would ask the question why would we want to pull back from offering overt assistance to organizations that are trying to get some help? We're not imposing, we don't impose plans; nongovernmental organizations sometimes ask for help. Let me give you an example. There are many, many nongovernmental organizations in this country who never, never call the U.S. government. I never hear from them, except when they may call to complain about U.S. policies. Whereas I think there is some people overseas, some people in the Russian government who think that somehow I, sitting at my desk, and others -- that we direct the activities of all these [U.S.] NGOs, and this should be a warning to us to pull back. These NGOs want to participate in the development of full democracy.
RFE/RL:
Of course, not all NGOs in Russia face problems. There are NGOs that are engaging in activities that local governments would like to do themselves, but lack the funding. Those NGOs face no problems. The NGOs that run into problems are the ones that do something that the local government never thought of doing, or does not particularly want them to do.
Lowenkron:
Therein lies the rub. You cannot have democracy promotion a la carte. You can't. And so when you start this process, you have to allow these many NGOs and individuals to have a voice in their own affairs. You cannot direct it. You cannot control it. You cannot steer it. You certainly can't manipulate it. And you can't give them a bottom line and say: "Work toward this outcome."
RFE/RL:
What leverage does the United States have to convince Russia not to restrict the operations civil society?
Lowenkron:
Well, I think it begins with high-level diplomacy. It starts with the president. It starts with the secretary of state. Our ambassador. It also entails bringing other like-minded leaders together -- for example, Chancellor Merkel. We didn't coordinate our messages, but certainly Chancellor Merkel made a very strong, clear statement in support of NGOs when she met President Putin in Moscow several weeks ago. So I think that is also another critical element.
Finally, I would also add that at the end of the day, Russian officials have to ask themselves how they want to be perceived in the West, or in the world in general. Take the G8, for example. There can be two stories that come out of the G8. One story is President Putin demonstrating leadership of the G8 in addressing global issues of the economy, health, or energy. Or the story could be that President Putin presides over G8 meetings against a backdrop of the evisceration, the decline of democracy and freedom in Russia. The choice at the end of the day is his.
RFE/RL:
You raise the issue of the G8. Some people would argue that Russia's chairmanship of the G8 was, for Putin, the most tantalizing carrot, the most positive enticement -- and that now that he has it, the United States has nothing left in its bag of goodies to offer him.
Lowenkron:
The G8 was not something that the U.S. could offer Putin. Basically, Russia has been in the G8 for a while. This is part of the calendar -- the cycle of what the countries in the G8 chair. The British had the presidency last year; we [the United States] had the presidency in 2004. Now it's the Russian Federation's turn. We still see that there is a lot that can be done in a G8 context, on this global agenda, but that doesn't preclude us from raising these issues no matter how sensitive they are. I would also hasten to add that it's not solely a matter of the [U.S.] executive branch raising these issues, or Chancellor Merkel raising these issues, but NGOs overseas raising the issues and also the Hill. The Congress, our own congress, is very much concerned about the direction of Russian democracy, and they are raising questions about the G8, and they're asking questions about how President Putin wants to project himself and the Russian state in the international system.
RFE/RL:
Is there any possibility at this point that Russia could lose its chairmanship of the G8? Let's say they took some extreme action and closed down every NGO in the country, for example. Are the logistical requirements of hosting a complex event like the G8 summit in St. Petersburg in July -- does that make it impossible to take the chairmanship away, impossible to move the summit somewhere else?
Lowenkron:
I don't think it's an issue of logistics, and I don't get into hypotheticals. All I can say is that at this point, we have a lot of issues with the Russians on our agenda. And we have this NGO issue -- which, by the way, is part and parcel of democratic trends in Russia that are not going in the right direction. And so I think it's important that we pursue both tracks. It's a fact of life; we have to pursue both tracks. We're working with the Russians now on Iran, for example, just as we're working with the Russians and telling them we will monitor how they implement their NGO law.
RFE/RL:
Moving beyond Russia, is there anything you can say about what U.S. leverage has in protecting NGOs in Central Asia -- for example, in Uzbekistan or Turkmenistan?
Lowenkron:
Well, on the issue of Uzbekistan, I think there was a miscalculation on their part. They thought that the -- quote -- global war on terror -- unquote -- meant we would look the other way on the events in Andijon. And we have not. And so there were consequences in our relationship. In the context of NGOs, we're going to continue to press to support the work of NGOs as part of a broad dialogue with each of the leaders in the region, to talk about how they can foster democratic practices and rule of law -- rule of law, and not rule by law.
Lyudmila Alekseyeva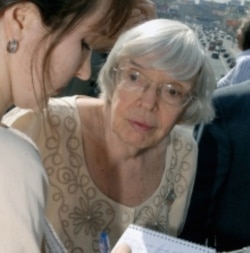 Lyudmila Alekseyeva (TASS)

THE END OF THE 'GOLDEN AGE' Moscow Helsinki Group founder and Chairwoman LYUDMILA ALEKSEYEVA spoke at an RFE/RL briefing in Washington, D.C., on October 26, discussing the difficulties facing Russian nongovernmental organizations. Tanya Lokshina, chairwoman of the DEMOS Center for Information and Research, also participated in the briefing.
According to Alekseyeva, who is a regular contributor to RFE/RL's Russian Service, the time in office of former Russian President Boris Yeltsin is considered a "golden age" for Russian NGOs -- even though this is "not [because] Yeltsin was a strong democrat," but rather because "society was left to its own devices and we managed to build civil society" while the "power elites" struggled among themselves and ignored the lower strata. Alekseyeva said Russia has emerged from its economic crises under President Vladimir Putin, but there is "no division of power in Russia under the model of executive vertical controls," where regional governors, a "puppet parliament," and a judiciary "stripped" of independence are under the Kremlin's control. Nonetheless, according to Alekseyeva, Russia is "not returning to Soviet times," because "today the attacks are selective" and "there is now a civil society" to resist the pressure.
Alekseyeva expressed concern that "Western democratic states don't react to attacks on human rights." She said that "in Soviet times, we few dissidents felt enormous Western support." She called that support "our shield," which she said is now missing. The supporters of civil society feel "now abandoned by Western allies," Alekseyeva said.
LISTEN
Listen to the complete panel discussion (about 90 minutes):

Real Audio
Windows Media
More stories featuring Alekseyeva and the Moscow Helsinki Group:
Human Rights Groups Spurn Chechen Poll
What Is The Biggest Threat To Stability In Kabardino-Balkaria?
Geologist Takes Law Abolishing Election Of Regional Leaders To Court