Saakashvili last month accused Russia of sabotaging gas lines to Georgia, an allegation that Moscow denied.
The Iranian nuclear standoff, cooperation in the war against terrorism, and the future of NATO are expected to be among the other topics discussed at the conference, which is due to run through 5 February.
U.S. Defense Secretary Donald Rumsfeld, Russian Defense Minister Sergei Ivanov, and German Chancellor Angela Merkel are among other top officials expected to address the gathering. Some 300 officials and experts from 50 countries are expected to attend, including delegations from Iran, China, India, and other countries.
(AFP, dpa)
Security Guarantees For Iran?
Security Guarantees For Iran?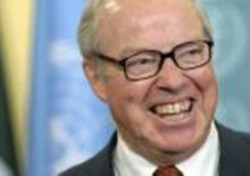 Hans Blix (CTK)

SECURITY GUARANTEES On January 26, RFE/RL Radio Farda correspondent Fatemeh Aman spoke with former UN chief weapons inspector HANS BLIX about the confrontation between Iran and the international community over Tehran's nuclear ambitions. Blix urged the United States to participate in direct negotiations with Tehran and to offer Iran security guarantees that are similar to those being discussed with North Korea...(more)
LISTEN
Listen to the complete interview (about five minutes):

Real Audio
Windows Media

THE COMPLETE STORY: RFE/RL's complete coverage of controversy surrounding Iran's nuclear program.