Egyptian Ferry Carrying More 1,400 Sinks In Red Sea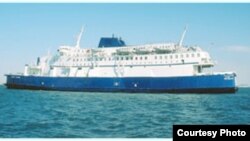 A picture of the Salaam 98. Only about 300 out of 1,400 passengers have been rescued from the scene (file photo) (Courtesy Photo) 3 February 2006 -- An Egyptian passenger ferry carrying some 1,400 people on board sank overnight in the Red Sea.
Egyptian Transport Minister Mohammed Lutfy Mansour told CNN television that 263 survivors have been found so far.
Rescue officials said 185 bodies have been pulled from the waters some 90 kilometers off the Egyptian port of Safaga, which was to be the ship's final destination.
Rescue boats and helicopters are in the area, but have been hampered by poor weather.
The cause of the sinking is unclear but there were high winds when the vessel left Duba in western Saudi Arabia yesterday.
Reports say most of the passengers were Egyptian workers returning from Saudi Arabia, but some were believed to have been pilgrims returning from Mecca.
(AP, Reuters, dpa, AFP)