The price rose 73 cents to $66.10 a barrel on the New York Mercantile Exchange in early Asian electronic trading.
The announcement by Iran on 5 February came after the International Atomic Energy Agency (IAEA) reported Tehran to the UN Security Council over concerns Iran is seeking to build nuclear weapons.
However, the Islamic republic left open the possibility for further negotiations over its nuclear program, saying it is willing to discuss Moscow's proposal to shift large-scale enrichment operations to Russian territory.
(AP)
Security Guarantees For Iran?
Security Guarantees For Iran?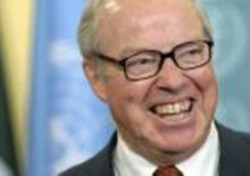 Hans Blix (CTK)

SECURITY GUARANTEES On January 26, RFE/RL Radio Farda correspondent Fatemeh Aman spoke with former UN chief weapons inspector HANS BLIX about the confrontation between Iran and the international community over Tehran's nuclear ambitions. Blix urged the United States to participate in direct negotiations with Tehran and to offer Iran security guarantees that are similar to those being discussed with North Korea...(more)
LISTEN
Listen to the complete interview (about five minutes):

Real Audio
Windows Media

THE COMPLETE STORY: RFE/RL's complete coverage of controversy surrounding Iran's nuclear program.