MUNICH, 6 February 2006 (RFE/RL) -- The tenor of the discussions on Iran was set by German Chancellor Angela Merkel as she opened the first working day of the Munich Conference on Security Policy on 4 February.
She said there were reasons to fear that Iran wanted to enrich uranium to build nuclear weapons, even though Tehran said its goal was to develop nuclear energy to generate electricity.
"We want, we must prevent Iran from developing its nuclear program further. Iran's nuclear program understandably suggests that it is not about the peaceful usage but also about military options. Iran has blatantly crossed the red line and I have to add that the absolutely unnecessary provocations of Iran's president make it necessary for us to react," Merkel said.
Merkel made an indirect reference to the appeasement policies of some governments in the 1930's as Adolf Hitler rose to power. "Now we see there were times when we could have acted differently," she told the audience of U.S. and European defense ministers and top policymakers.
She added that an Iranian president who denied the existence of the Holocaust could not expect tolerance from Germany, saying, "We have learned from our history."
'World's Leading Sponsor Of Terrorism'
U.S. Defense Secretary Donald Rumsfeld followed Merkel with a warning that terrorists might benefit from an Iran with a nuclear capacity. "The Iranian regime is today the world's leading state sponsor of terrorism," he said. "The world does not want a nuclear Iran and must work together to prevent it."
Rumsfeld did not comment on the decision by the International Atomic Energy Agency (IAEA) on 4 February to report Iran's nuclear activities to the UN Security Council. But he urged the international community to work for what he called a "diplomatic solution" to the problem. He said the United States stands together with those Iranians who wanted a peaceful, democratic future.
U.S. Senator John McCain (Republican, Arizona) told the conference that if Iran developed a nuclear weapon it could threaten other countries in the region. ""Every option must remain on the table. There is only one thing worse than military action. That is a nuclear-armed Iran," he said. "The regime must understand it can't win in a showdown with the world."
Still Room For Manuever
German and other diplomats at the conference stressed that Russia could play an important role in resolving the conflict. Moscow has offered to process Iran's uranium in Russia and return it to Iran for use in generating electricity and other domestic purposes. Iran has said it is prepared to continue discussions with Moscow.
In deciding to report Iran to the Security Council, the IAEA agreed to delay doing so until March, leaving room for more negotiations with Tehran. But the question now raised by the tone of the conference is how much room U.S. and European officials are still willing to give Iran.
The many warnings of the dangers of a nuclear Iran heard at the gathering suggest the West will take a tougher and more unified position toward Iran than in the past to assure Tehran does not obtain a nuclear-weapons capability.
Previously, the West has been divided over what to do. The United States has pushed hard for a tougher line, including referring -- not just reporting -- Iran to the Security Council, with a referral suggesting a more urgent need for action by the Security Council than does a report. But the EU preferred offering Tehran incentives to give up all dual-use activities that could have both peaceful and weapons-related applications. The European talks with Tehran have since collapsed.
Still, there are no signs yet that a tougher future stance by the West will force Tehran to cooperate.
Iranian Deputy Foreign Minister Abbas Araqchi told the Munich conference it would be a mistake to send the dispute to the Security Council. He warned that Iran has a law that calls for ending contacts with the IAEA if that happens.
"If the case is sent to the [UN] Security Council, we have to be very explicit. We have, as you know, a law in our parliament that we should stop all our voluntary activities," Araqchi said. "And that means the escalation of the dispute."
Iranian lawmakers met today in an emergency closed-door session to discuss the IAEA decision to report Iran to the Security Council.
Shortly after the IAEA decision, Iranian President Mahmud Ahmadinejad ordered the resumption of uranium enrichment and an end to unannounced inspections of its facilities by IAEA nuclear inspectors. Those measures were to take effect on 5 February.
Future Of NATO
While the Iranian nuclear crisis dominated much of the discussions, the conference participants also devoted much time to trying to map out new directions for NATO.
Speakers discussed plans for the alliance to modernize its operations, including a capacity to operate beyond its traditional base in Europe. NATO has convened a summit meeting in Riga in November to review the transformation plans.
NATO Secretary-General Jaap de Hoop Scheffer told the Munich conference there are no plans for NATO to play the role of a world policeman. However, he said the new NATO Rapid Response Force will be capable of reacting quickly to a crisis in many parts of the world.
De Hoop Scheffer said the alliance was studying proposals for a partnership with countries in other parts of the world. He said discussions are under way with the Gulf Cooperation Council and other organizations. There also have been preliminary discussions about partnership agreements with Japan, South Korea, Australia, and New Zealand.
"We need to ensure that we have the closest possible partnership with those countries that can, and are willing, to help defend our shared values," he said. "To my mind that means also building closer links with other like-minded nations beyond Europe -- nations such as Australia, New Zealand, South Korea, or Japan. NATO is not a global policeman but we have increasing global partnerships."
De Hoop Scheffer said the embryo NATO response force had already undertaken some nonmilitary missions. As an example, he cited NATO's support for the African Union in its recent mission to help starving people in Darfur, Sudan. The Rapid Response Force had also been used to help earthquake victims in Kashmir. The mission lasted 90 days
He said there were several problems to be resolved before NATO could fully evolve into a new operation. Among the most important was the financing of what were often expensive missions. It was also important to develop a structural relationship between NATO and the United Nations because some of NATO's operations were linked to a UN mandate.
IAEA Final Resolution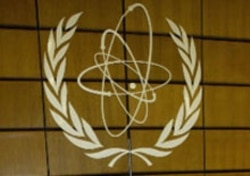 READ
On 4 February, the Board of Governors of the International Atomic Energy Agency approved in a 27-3 vote a resolution to report the matter of Iran's nuclear program to the United Nations Security Council. The key section of the resolution is Section 1, which states that the Board of Governors:
Underlines that outstanding questions can best be resolved and confidence built in the exclusively peaceful nature of Iran's program by Iran responding positively to the calls for confidence-building measures which the Board has made on Iran, and in this context deems it necessary for Iran to:
reestablish full and sustained suspension of all enrichment-related and processing activities, including research and development, to be verified by the Agency;
reconsider the construction of a research reactor moderated by heavy water;
ratify promptly and implement in full Additional Protocol;
pending ratification, continue to act in accordance with the provisions of the Additional Protocol with Iran signed on 18 December 2003;
implement the transparency measures, as requested by the Director General, which extend beyond the former requirements of the Safeguards Agreement and Additional Protocol, and include such access to individuals, documentation relating to procurement, dual use equipment, certain military-owned workshops and research and development as the Agency may request in support of its ongoing investigations.
COMPLETE TEXT: To read the final resolution, with late-hour changes highlighted, click here.

THE COMPLETE PICTURE: RFE/RL's complete coverage of controversy surrounding Iran's nuclear program.