Montenegro Postpones Decision On Independence From Serbia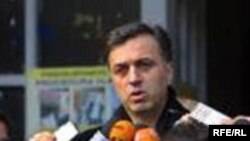 Montenegrin President Vujanovic decided to allow more debate on the issue of independence from Serbia (file photo) (RFE/RL) 6 February 2006 -- Montenegro's president today postponed a parliament session at which lawmakers were expected to set a date for a referendum on independence from Serbia.
A statement from President Filip Vujanovic's office said he had decided to reschedule the parliamentary session to allow more time for debate.
The statement did not specify a new date for the session.
The pro-independence Vujanovic had previously scheduled the parliament meeting for 7 February. His ruling majority was expected to set the independence plebiscite for mid-April.
But as the debate continues in Montenegro on the terms of the referendum, European Union envoy Miroslav Lajcak urged Vujanovic to postpone the assembly session.
(AP)


SUBSCRIBE
For a regular review of politics, media, and RFE/RL broadcasts in the western Balkans,
subscribe to "RFE/RL Balkan Report."