The Egyptian-born al-Masri was also convicted of stirring up racial hatred in his sermons and possessing a handbook which the court said was "of use to terrorists."
The judge sentenced him to serve all 11 sentences concurrently, the longest of which was seven years. He could have faced life.
Hamza's lawyer, Muddassar Arani, said after the announcement that her client considered his case to be "politically motivated against him."
She said Hamza would appeal his conviction.
The trial began on 9 January. Al-Masri was arrested in May 2004.
The former imam of London's Finsbury Park mosque is also wanted by U.S. authorities on terrorism-related charges.
Hamza stirred controversy after he allegedly made comments in support of the Al-Qaeda network after the 11 September, 2001 terrorist attacks on America.
(AP, Reuters)

Who Is Ayman al-Zawahri?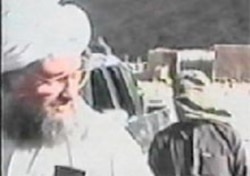 AYMAN AL-ZAWAHRI is regarded as Al-Qaeda's No. 2 authority. Although al-Zawahri is lesser known than Osama bin Laden, some observers say the deputy is just as powerful as the chief....(more)
See also:
Is Al-Qaeda Letter Sign Of Rift, Or Opportunity For Bush?