RFE/RL: What are your views concerning Osama bin Laden's recent comments made on audiotape?
Abdullah Abdullah: Osama Bin Laden is the murderer of Afghan people and hundreds of other Muslims around the world. He has betrayed Muslims of the world greatly. Now that he is putting himself in the position of defending Afghan Muslims and Muslims in Iraq, it is strange. While in the case of Afghanistan he has been the cause of the wretchedness. And, before there were any foreign forces in Afghanistan, Osama and his followers caused the death of thousands of people and forcing them into exile. Now that he declares his position as defender of Muslims, especially of Afghanistan, I find it strange. But he must be found, and must be punished, he and his followers who have been with him in all the crimes all this time.
"We hope we can come to the point that criminals will not be permitted to come and cause insecurity in Afghanistan from any of the neighboring countries."
RFE/RL: Do you have a specific view about Osama's proposal to the United States [asking for a cease-fire]?

Abdullah: The United States has given its answer to that. But for Afghanistan, as a victim country of his and his followers' terrorist activities, the only thing Afghan people expect is that he would be punished.

RFE/RL: What is your comment about the recent Taliban claim of not having played a role in the Spin Boldak suicide attack?

Abdullah: I think those Taliban who are in war, and those foreigners with them, are the cause of all this and part of this crime. Those who have made the decision to destroy Afghanistan have committed different crimes in different parts of Afghanistan during the last four years, including the recent crime. Why do they deny it? In the past, also, in some cases they have claimed responsibility and in others they have not. In this recent case, since the causalities were all civilian, the Taliban didn't want to take the blame.

RFE/RL: What about the issue of Pakistan and other neighboring countries? Do they cooperate with you about preventing cross-border entry?

Abdullah: The crossing of people from Pakistan to Afghanistan and the carrying out of terrorist attacks has continued. This indicates that the problem continues to exist. There have been contacts, and relations have been strengthened. But there are still problems. We hope we can come to the point that criminals will not be permitted to come and cause insecurity in Afghanistan from any of the neighboring countries.

RFE/RL: About the upcoming London conference: what preparation has the Afghan government made and what issues will be discussed?

Abdullah: The conference, which will be held in London, will be about an Afghan [plan or proposal] which is a mutual commitment by Afghanistan and international society for continuing efforts for stability and security in Afghanistan, the strengthening of the state, and its economic and social development. We are hoping that more than 60 countries and international organizations will take part in this conference. From Afghanistan a delegation headed by President Hamid Karzai will attend. In fact, after the Bonn and Tokyo conferences, this is the most important event with relation to international aid to Afghanistan and the position of Afghanistan with regard to issues relating to Afghanistan and international society. In fact, we expect a five-year framework of cooperation to be endorsed by the participating countries.

RFE/RL: Now that your government has accomplished the Bonn conference terms and conditions, it has been said that the government wants to directly implement the aid as opposed to letting the NGOs [implement it]. Do you have any specific proposals on this?

Abdullah: Yes. Our specific proposal for the international community is that Afghanistan's role in implementing and the ownership of the aid should be increasingly greater. At the beginning all aid was implemented through NGOs. This has changed today and we hope we can get this commitment from the international community that -- considering the positive efforts the government has made -- there would be substantial change in the role and ownership of the government in terms of international aid. In the document that will be presented to the conference, there is a section about ways of ensuring the effectiveness of the aid. If supported by the participants, there will be commitment in moving in this direction.

RFE/RL: We have heard that Karzai will be visiting Demark. Could you tell us about the purpose of this visit and whether you will accompany him?

Abdullah: Before that, Mr. President Karzai will attend the World Economic Forum in Davos, Switzerland and he will be giving speeches in different sessions there. I will be traveling with him and later he will visit Denmark, one of the Scandinavian countries -- all of which have been assisting in Afghanistan's reconstruction process. Denmark is the only country that, despite invitations to visit, Karzai has not been able to go to. Before the London conference Karzai will have a one-day official visit to Denmark.


Islam In A Pluralistic World
Islam In A Pluralistic World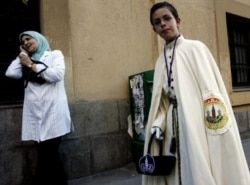 A Muslim woman (left) watches a Christian procession in Madrid in March (AFP)


READ
CONFERENCE ON ISLAM:
A major international conference on Islam concluded in Vienna in November 2005 with strong appeals from prominent Muslim leaders to recognize international terrorism as simply "terrorism." Political figures from Islamic countries, including the presidents of Iraq and Afghanistan, argued that it should never be labeled "Islamic" or "Muslim" terrorism because Islam is based on peace, dialogue, and tolerance. "Salaam" -- meaning "peace" -- was the key word of the three-day conference, titled "
ISLAM IN A PLURALISTIC WORLD
."
Iraqi President Jalal Talibani and Afghan President Hamid Karzai used the word in their remarks to emphasize the peaceful nature of Islam. Other speakers quoted passages from the Koran to the effect that all men and women, regardless of faith, are creatures of God and should live in peace with each other without discrimination
...(more)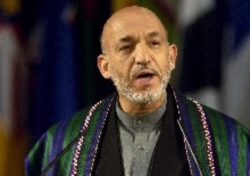 LISTEN
Listen to Afghan President
HAMID KARZAI
's complete address to the Vienna conference (in English):
Real Audio
Windows Media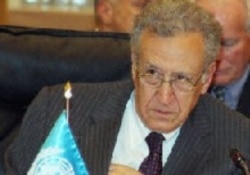 LISTEN
Listen to UN special envoy
LAKHDAR BRAHIMI
's complete address to the Vienna conference (in English):
Real Audio
Windows Media
THE COMPLETE PICTURE:
Click on the image to view a thematic webpage devoted to issues of religious tolerance in RFE/RL's broadcast region and around the globe.