Islamic Conference, EU, UN Urge Dialogue Over Cartoons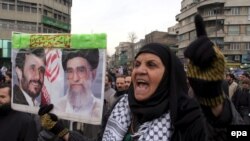 A protest against the cartoons in Tehran on 3 February (epa) 8 February 2006 -- The Organization of the Islamic Conference, the United Nations, and the European Union have issued a joint call for urgent dialogue to defuse Muslim anger over Danish caricatures of the Prophet Muhammad.
In a written statement, the three organizations said they understand the deep hurt and widespread indignation felt in the Muslim world over the cartoons, but said recent violent acts have surpassed the limits of peaceful protest.
Denmark has called on Iranian authorities to protect Denmark's embassy in Tehran following a second consecutive day of stone and petrol-bomb attacks on the embassy by Iranian protesters. Iranian protesters also attacked the Norwegian Embassy in Tehran on 7 February.
(compiled from agency reports)