Three former Interior Ministry officers are standing trial in Kyiv in connection with the 2000 assassination of opposition journalist Heorhiy Gongadze.
Yushchenko's chief of staff, Oleh Rybachuk, said he came to the courthouse today to convey the president's "indignation" at the court's decision last month to bar journalists from much of the proceedings.
Also today, the judges postponed proceedings after a defendant complained of a health problem.
Gongadze's decapitated body was discovered in a forest near Kyiv in September 2000. Many in Ukraine suspect then President Leonid Kuchma of ordering the killing.
Kuchma denies the charge.
(Interfax, AP)

The Gongadze Case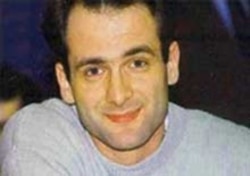 Heorhiy Gongadze was neither the first nor the last journalist to be killed in Ukraine, but it is his death that has become synonymous with the pressure exerted on journalists by the administration of former President Leonid Kuchma. Within weeks of his death, secretly recorded tapes emerged that implicated Kuchma in Gongadze's death. Kuchma has always denied any involvement, but the twists and turns of the protracted investigation -- and its failure to produce results -- merely fueled the speculation. The demonstrations triggered by Gongadze's death galvanized opposition to the Kuchma administration.
President Viktor Yushchenko, prime minister at the time of Gongadze's death and leader of the Orange Revolution, has said that resolving the Gongadze case is a "matter of honor." The journalist's alleged killers are now on trial in Kyiv. But a trail of deaths, including one since the Orange Revolution, raise doubts about whether it will ever be certain who ordered Gongadze's murder.
For a timeline of the Gongadze case, click here.