Hrant Dink, the editor of the Turkish-Armenian weekly "Agos," was on trial for criticizing the national anthem and an oath all elementary school pupils take for containing lines promoting Turkish ethnic nationalism.
Dink made his comments four years ago.
Dink was convicted in October 2004 on the same charges for an article he wrote in 2004 on the mass slaughter of Armenians during World War I.
He has since appealed against the six-month suspended sentence imposed on him.
Dink is also due to appear in court in May to face charges of attempting to influence the judiciary. The charges stem from an anonymous critical article published in "Agos" shortly after the court ruling.
If found guilty, he could be jailed for up to 4 1/2 years.
(AFP)

Examining History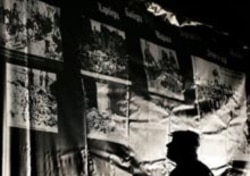 CALL IT GENOCIDE? Questions surrounding the mass killings of Armenians at the beginning of the last century continue to dominate relations between Armenia and Turkey. In April, Ankara proposed conducting a joint Armenian-Turkish investigation into the mass killings and deportations of Armenians during World War I.
Turkish leaders suggested that the two countries set up a joint commission of historians to determine whether the massacres carried out between 1915 and 1917 constituted genocide. Armenia, however, insisted it would continue to seek international recognition and condemnation of what it says was a deliberate attempt at exterminating an entire people....(more)
See also:
Armenians Mark 90th Anniversary Of Start Of Massacres
Armenia: Tragedy Remains On Europe's Political Map
ARCHIVE: For a complete archive of RFE/RL's coverage of Armenia, click here.