EU Urges U.S. To End Visa Rules For New Member States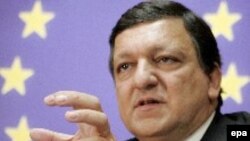 Barroso wants the United States to drop its visa requirements for all EU-member states (file photo) (epa) 10 February 2006 -- European Commission President Jose Manuel Barroso today urged the United States to end entry barriers to citizens from the European Union's new member states.
Barroso, in a speech given at the University of Pittsburgh, in the United States, said that current visa practices were discriminating against the EU newcomers.
Ten countries -- mostly in Eastern Europe -- joined the European Union on 1 May 2004.
Barroso called for the completion of visa reciprocity between the United States and the EU.
(dpa)