Russian news agencies say three men armed with bats and hammers attacked Dmitry Kolomytsev as he was returning home with his wife on 12 February. Kolomytsev sustained serious head injuries and had to be taken to hospital.
Prosecutors have opened a criminal investigation into the incident on charges of hooliganism. Prosecutor Mikhail Murzayev said it was premature to speak of a direct link between the attack and Kolomytsev's political activities.
Rodina party leader Dmitry Rogozin said he believed the attack was politically motivated. He said he had complained to Russian Prosecutor-General Vladimir Ustinov about the incident.
(Interfax, ITAR-TASS)
Campaign Advertising Sparks Controversy
Campaign Advertising Sparks Controversy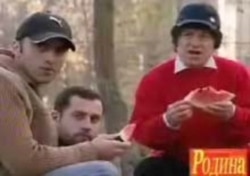 A Moscow court has banned Rodina (Motherland), a nationalist opposition party, from running in the December 4 elections to Moscow's City Duma. Judges ruled that the party's campaign advertisement incited racial hatred. The decision has incensed Rodina's leader, who has accused the authorities of trying to get rid of a powerful opposition force
....(more)
See also: