Michael Leunig said two of his old Holocaust drawings had been sent maliciously by someone else along with a forged comment expressing solidarity with the Muslim world.
Iran's best selling newspaper, "Hamshahri," launched a competition on 13 February for the best cartoon about the Holocaust in retaliation for Danish cartoons of the Prophet Muhammad. Those drawings have sparked angry protests in the Muslim world.
Leunig said the Iranian newspaper had withdrawn the cartoons from the competition after he contacted the editors.
The two cartoons were rejected for publication in "The Age" newspaper in Melbourne in 2002.
(AP, Reuters, AFP)
Iranian Anti-Zionism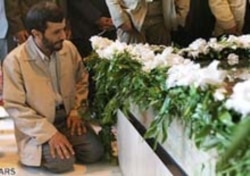 President Ahmadinejad visiting the tomb of Ayatollah Ruhollah Khomeini in October (Fars)


READ
Each year in Iran, the last Friday of Ramadan is celebrated as Qods (Jerusalem) Day, officially a day for expressing solidarity with the Palestinian people.
"I have been notifying the Muslims of the danger posed by the usurper Israel,"
Ayatollah Ruhollah Khomeini,
father of Iran's Islamic Revolution, said in an August 1979 announcement. "I ask all the Muslims of the world and the Muslim governments to join together to sever the hand of this usurper and its supporters...and, through a ceremony demonstrating the solidarity of Muslims worldwide, announce their support for the legitimate rights of the Muslim people..."
(more)
SEE ALSO:
Iranian President's Latest Comments About Israel Spark Further Condemnation
Iranian President Says Light Surrounded Him During UN Speech
INTERVIEW: On December 22, 2005, RFE/RL's Radio Farda spoke with FRED ZEIDMAN, director of the U.S. Holocaust Memorial Museum in Washington, D.C. Zeidman commented on Iranian President Mahmud Ahmadinejad's anti-Israeli comments.
LISTEN
Hear the complete interview (about nine minutes):
Real Audio Windows Media
ARCHIVE: For an archive of RFE/RL's coverage of Iran, click here.