February 14, 2006 (RFE/RL) -- January's freezing temperatures gave Russia's nuclear power industry a chance to prove its worth. The federal atomic energy agency Rosatom produced 14 billion kilowatt hours of energy last month -- a 5.3 percent increase over January 2005.
And that's just the beginning.
Sergei Kiriyenko, the head of the atomic energy agency, Rosatom, says by 2030 there will be 40 new nuclear reactors in Russia, generating one-fourth of the country's massive electricity needs.
Russia also hopes to build as many as 60 additional reactors for clients abroad.
Looking For Money
Nils Boehmer, a nuclear physicist working with the Norwegian environmental group Bellona, says Rosatom's ambitions are motivated first and foremost by money.
"The former Minatom [the Atomic Energy Ministry] was very big, and in the current Rosatom there is a huge need for income." Boehmer says. "And Russia and Rosatom are trying very hard to export their nuclear technology, in order to increase their revenue and income. And that is why they are trying to sell their nuclear technology to Iran, to India, to Pakistan, and to China."
To make money, of course, you have to spend money. And Kiriyenko's nuclear project comes with a hefty price tag -- $60 billion for the 40 domestic reactors alone.
Is Gazprom Looking To Expand?
Enter Gazprom, Russia's state-controlled natural gas monopoly, which has suggested it may expand its repertoire and move into the nuclear industry.
It might seem a logical step for one of the world's largest energy companies -- particularly at a time when nuclear power is re-emerging across the globe as a possible energy alternative. Boehmer says the long-term strategy would also allow the gas giant to ship a greater portion of its fossil fuels to lucrative markets like the European Union, the world's largest energy importer:
"Well, they're taking up a tradition from Soviet times, that nuclear power should be for domestic use, and that they should export the oil and gas to whomever can pay dollars," Boehmer says. "And I think that is what Gazprom is trying to do once again, to build up atomic power for domestic use and then export and earn money on gas and oil."
Proving Oneself Reliable
The nuclear strategy also dovetails neatly with the central goal of Russia's year at the head of the Group of Eight major industrialized economies-- presenting itself as a reliable supplier of energy in an era of geopolitical uncertainty.
To this end, Russia has also offered to build an international center offering nuclear services to countries who either have no program of their own or who, like Iran, are suspected by the international community of using their nuclear industries to pursue weapons programs.
Russian and Iranian officials are due to meet on 20 February to discuss a proposal by Moscow to provide Tehran with uranium enriched on Russian territory.
"And Russia and Rosatom are trying very hard to export their nuclear technology, in order to increase their revenue and income. And that is why they are trying to sell their nuclear technology to Iran, to India, to Pakistan, and to China."
Iran on 13 February announced it was resuming enrichment activities. But the United Nations is still hopeful Tehran will accept the Russian offer as a way of bringing the Iranian nuclear standoff to an end.
Tariq Rauf is the head of verification and security policy at the UN's nuclear watchdog, the International Atomic Energy Agency (IAEA). He says IAEA Director-General Muhammad el-Baradei supports the idea of using a multilateral approach to protect the security of sensitive aspects of the nuclear fuel cycle like enrichment and reprocessing.
"The argument is that instead of new countries developing their own national enrichment capabilities, those countries that have mature and operating capabilities in the area of uranium enrichment could set up multinational centers or joint ventures for enrichment, under which they would keep the technology," Rauf says. "The technology would not be shared. But they would get international partners who could contribute in the investment and in the operations, from a management point of view, of the enrichment operation, but they would not get to see the centrifuges or the technology to enrich."
International Reach
Russia is not alone in pursuing such joint nuclear projects. The United States has also announced plans for a global atomic energy network, and is soliciting international partners. And seven partners -- the European Union, Japan, the United States, China, Russia, South Korea, and India -- recently finalized a plan to build a multibillion-dollar experimental fusion reactor in France.
So Russia's new nuclear focus is part of a broader trend. But is Russia's nuclear safety record ready for its own rebirth as well? Boehmer of Bellona says Russia has made definite improvements, and that the technical standards of its new reactors is far better than those built during the Soviet era.
"But at the same time, I don't see that the Russian practice or safety culture in Russia has developed in the same way," Soehmer says. "So you might get some safer reactors, but the human [risk] factor will be as big, maybe even bigger, because they believe that they have very safe technology, so they don't need to be so aware about safety concerns."
It remains to be seen whether Kiriyenko can maintain his nuclear momentum and steer skeptics past such safety concerns. In 2006, after all, many people may be focused not on Russia's nuclear future, but on past memories of the Chornobyl nuclear disaster, which marks its 20th anniversary this year.
A Checkered Past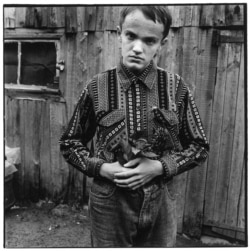 Local resident Ramzis Fayzullin is a modern-day victim of the Mayak disaster. (Greenpeace/Knoth)


IN THE SHADOW OF MAYAK: Russia has said it has no plans to shut down Mayak, the country's biggest reprocessor of spent nuclear fuel. The plant, located just east of the Ural mountains in Russia's Chelyabinsk Oblast, is considered to be the site of some of the worst radioactive contamination on Earth.
Mayak was created in the 1940s as the heart of the Soviet Union's nuclear program. But today the territory around the plant is a wasteland, with generations of residents suffering from sterility, cancer, asthma, and other illnesses....(more)