The offer was made by Russian Prime Minister Mikhail Fradkov, who began a two-day visit to Vietnam today.
Fradkov gave no details. Vietnam wants to build a nuclear power plant by 2020.

Fradkov, speaking at a joint news conference with Vietnamese Prime Minister Phan Van Khai, also said Russia was ready to help Vietnam complete a hydroelectric plant in the north of the country. The Son La dam is expected to begin generating electricity in 2012.

Khai said Vietnam was seeking a "strategic partnership" that serves the interests of both countries.

The two prime ministers signed two agreements, one on fighting drug trafficking and the other on professional training for Vietnamese in Russia.

On 17 February, Fradkov is scheduled to visit a joint oil and gas venture, Vietsovpetro, which is based in the southern port city of Vung Tau.

(compiled from agency reports)
Russia's Nuclear Power Sector
Russia's Nuclear Power Sector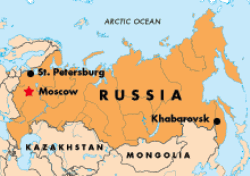 Click on the map to view the locations of Russia's civilian nuclear power plants.



POWER OF THE ATOM: As Russia's economy recovers from the collapse of the 1990s, the government is moving forward with plans to expand its nuclear-energy sector. Russia currently has 31 civilian nuclear-power reactors in operation, with the newest being Kalinin-3, which came on line in 2004. Nuclear power accounts for 16 percent of Russia's total power generation. Three additional reactors are currently under construction.
Many of Russia's reactors are quite old. In 2000, the government announced plans to extend the working lifetime of 12 first-generation reactors. So far, seven of these reactors have been upgraded for 15-year extensions and all 12 of them are expected to be replaced by 2020.
Russia controls about 4 percent of the world's known uranium deposits, producing some 2,900 tons of uranium in 2002. Russia has four operating uranium-enrichment plants, the largest of which is located at Novouralsk near Yekaterinburg.
The government has not yet approved a proposal for a permanent nuclear-waste storage facility on the Kola Peninsula.