Troop Increase Not Discussed At Russian-Kyrgyz Meeting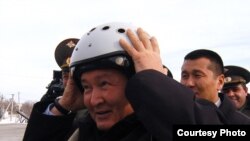 Kyrgyz Prime Minister Feliks Kulov at the Kant base (file photo) (Courtesy Photo) BISHKEK, 16 February 2006 (RFE/RL) -- A meeting between the commander of Russia's air force and Kyrgyzstan's president and defense minister has ended without no immediate indication that Russia will increase its military presence in the country.
Russian General Vladimir Mikhailov had said that his talks with Bakiev and Defense Minister Ismail Isakov would focus on intensifying military cooperation and upgrading the Kant air base. He had earlier said Russia hoped to more than double the number of servicemen at the base.
However, Isakov told RFE/RL's Kyrgyz Service after the meeting that there was no discussion of the size of the Russian force. He did, though, say that "it would be good" for Kyrgyzstan if the Russian presence were increased.
The meeting came a day after Kyrgyz President Kurmanbek Bakiev said Bishkek wants Washington to pay 100 times more for use of the Ganci air base.
Kyrgyzstan is the only country in the world to host both U.S. and Russian bases.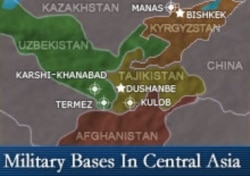 Click on the map for an enlarged image.