Pakistan President Holds Beijing Talks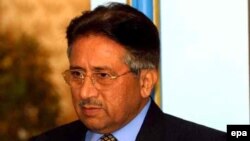 Pervez Musharraf (file photo) (epa) 19 February 2006 -- Pakistan's President Pervez Musharraf is due in China today for talks with top leaders, including President Hu Jintao.
China's Foreign Ministry said it expects the five-day visit to cement a "strategic partnership" between the two long-term allies.
Chinese media quote Musharraf as saying on 18 February that infrastructure projects and security issues will be major topics for discussions.
The Pakistani president insisted that bilateral ties will not be affected by the 15 February slaying of three Chinese engineers in Pakistan's Balochistan Province.
The attack followed the killing of three Chinese engineers in the volatile province in 2004.
(dpa, AFP)