UNITED NATIONS, 21 February 2006 (RFE/RL) -- Reform of energy prices and subsidies is definitely on the agenda in Eastern Europe and the CIS.
But, according to the recent UN report, local players lack the confidence, technical skills, and expertise to promote energy-efficiency and renewable-energy investments.
Changing Investment Climate
The report says that local banks in Eastern Europe and the CIS are still unfamiliar with project-financing techniques and are reluctant to provide financing for progressive energy projects, which they consider to be high risk.
Investors could be missing out. Economic output in Eastern Europe and the CIS is growing between 5 and 12 percent annually and foreign direct investment is likely to increase. According to the report, such energy projects, with a payback period of less than five years, could yield between $5 billion and $10 billion.
Gianluca
Sambucini, who is the author of the UN-sponsored report, tells RFE/RL this investment volume is so large that the private sector needs to participate in financing such projects.
"More and more we can prove for various reasons, including the fact that through the different crises with increase in price of oil and gas, even the energy-saving projects and those that are more focused on developing renewable sources of energy, are more and more attractive from the investment point of view and therefore also attractive to the private sector," Sambucini says.
An Opportunity For Private Investors
In the past, Sambucini says, activities and projects related to the reduction of greenhouse-gas emissions were not considered attractive by private investors in Eastern Europe and the CIS. Most of these projects were financed by the state or with grants from international organizations.
"Eastern European economies suffered from low productivity and living standards associated with inefficient energy use long before central planning came to an end."
But with global oil and gas prices hitting new highs, the situation is poised for change, he says, and an increasing number of private investors in the region are beginning to show keen interest in environmental projects.
"We've been trying among the different activities: the technical assistance to promote the reforms, the normative framework, the capacity in the countries to promote these cases," Sambucini says. "We tried also to identify a kind of portfolio of investment projects and facilitate the access to finances for those that were considered bankable by investors."
Public-Private Cooperation
What they are trying to do, Sambucini says, is to engage both the public and the private sectors and to encourage them to cooperate.
"The inefficient and polluting energy systems in Eastern Europe and CIS are glaring economical and environmental problems interwoven with promising opportunities for reducing global greenhouse gas emissions," Sambucini says. "Eastern European economies suffered from low productivity and living standards associated with inefficient energy use long before central planning came to an end."
In all of these countries carbon emissions have decreased since the 1990s because of the introduction of newer technologies. However, experts are concerned that without improving the technology for energy efficiency and boosting investments, this fall in emissions could stop or even reverse.
Zdravko Genchev is the vice chairman of the Steering Committee of the United Nations' Energy Efficiency 21 project.
He says that when identifying potential locations for implementation of energy-efficiency projects they are looking for a "critical mass" -- projects where the efficiency will be visibly noticeable, for instance street lighting, or lighting in hospitals and schools, or development of more efficient urban heating systems.
Improving Efficiency Of Urban Energy
Local experts in these countries, he says, have to learn the basics of identification, initiation, and financing of such energy-saving projects.
There have been some moderate success stories. In Ukraine, Genchev says, an energy-services company was set up in the city of Rivne in November 2003.
"In Ukraine, for instance, with the participation of the European Bank [for Reconstruction and Development] a company for energy services was established called ESCO," Genchev says. "The company is partly government-owned, but this is a unique company and it is one of the [major] drivers for energy efficiency in Ukraine."
ESCO's project strategy is to promote municipal energy efficiency in Ukraine through its pilot project in Rivne. Those in charge of the project hope other towns and cities will follow Rivne's lead.
Russia Ahead Of The Pack
It is Russia, Genchev says, that is undoubtedly the leader among the five countries dealt with in the report -- not only in terms of project size but also in project implementation. The state is still heavily involved in such projects in Russia, he says, but there is large foreign investment too.
"They [the Russians] developed very well the idea for experimental energy-efficiency centers in Russia," Genchev says. "There are more than 10 energy-efficiency centers in Russia and some of them are huge, there is a succession of projects in each such center. In this regard, the Russians pulled ahead very persuasively."
The World Bank and other investors, the report says, have approved financing for 18 projects in Belarus, Bulgaria, Russia, and Ukraine for a total of $14.9 million.
Gas Facts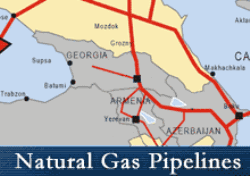 Click on the map for an enlarged image.
Ukraine consumes 70 billion cubic meters (bcm) of gas per year. It produces 20 bcm of its own gas, has a signed contract to import 40 bcm from Turkmenistan, and in 2005 was getting 29 bcm from Russia as payment for transit of Russian gas.
Ukraine sells some 7 bcm of gas a year to the West and places some in underground storage facilities. These facilities can hold 34.5 bcm.
Ukraine is the sixth-largest consumer of gas in the world and uses more gas than Poland, the Czech Republic, Hungary, and Slovakia combined.
Russia has proven gas reserves of 47 trillion cubic meters (tcm) -- the largest in the world ahead of Iran and Qatar.
Russia sells approximately 160 bcm to Europe each year. By 2015, Europe is expected to import 300 bcm, or 40 percent of its projected needs from Russia.
Russia's Gazprom is the world's largest gas company. It is the only company allowed by Russian law to export gas outside the borders of the CIS. It also owns the gas-transportation system and most of the gas fields in Russia.
The Russian state is Gazprom's majority shareholder , with a 51 percent share. The company's ownership rights changed as of the beginning of 2006, with Gazprom stock being sold on the open market. The Russian state, however, will continue to hold the majority stake.