Islamic Culture and Guidance Minister Mohammad Safar-Harandi said in mid-November that the government will censor some of the current programs that are being broadcast ("Aftab-i Yazd," 16 November 2005). "We shall not permit the broadcasting of films that blatantly contradict the wishes and goals of a religious people," he said. He went on to criticize the previous administration's efforts in this regard, saying the supervisors of movie-making "needed to be reformed" and accusing them of not accepting that "this is a country shaped by the lord of the age."
A Controversial Comedy
In December, the Supreme Cultural Revolution Council, which is headed by Ahmadinejad, instructed the state radio and television agency -- the Islamic Republic of Iran Broadcasting (IRIB) -- not to play Western or "decadent" music. It was not only music that concerned Ahmadinejad. The Supreme Cultural Revolution Council also instructed the IRIB to bring all its programs in line with the new cultural policies.
An editorial in a hard-line daily also expressed outrage over "The Nights Of Barareh," which it accused of having "populist implications and demagogic repercussions."
It was during this time that Ahmadinejad spoke out against what is arguably the most-popular television show in Iran: "The Nights Of Barareh," a nightly comedy that is set some 70 years ago in a fictional village. Its clever writing addresses issues that viewers relate to, such as government corruption, bogus elections, and women's rights, and there is a grim-faced gendarme who censors the local newspaper. Even "enrichment" comes up as a topic when a Westerner persuades the locals that he is able to enrich their chickpeas but, in fact, he only soaks them in water to increase their weight. The program also touches on social issues, with the village divided into upper and lower halves that resemble the class divisions of Tehran. It also includes a prominent homosexual character.
A Slap In The Face
Coming at the same time as the executive branch decrees on media content, and in line with the political conservatism of IRIB and its leadership, one could reasonably expect "The Nights Of Barareh" to be dropped from the schedule. Instead, IRIB chief Ezatollah Zarghami visited the show's set on 21 December and praised the show and its cast. This visit and Zarghami's comments -- all of which featured prominently on that evening's newscast -- were a slap in the president's face.
Ahmadinejad's supporters reacted angrily. Fatemeh Rajabi, the wife of government spokesman Gholamhussein Elham, protested that the IRIB gave more attention to Zarghami's visit to the Barareh set than it gives to the president's activities ("Mardom Salari," 31 December 2005). She accused IRIB of distorting and censoring news about the president, and she warned Zarghami and other IRIB managers to prepare to face public wrath. Rajabi's accusations appeared on several websites as well, and she added vague accusations that unnamed websites were connected with the Israeli secret-service agency Mossad and the U.S.'s Central Intelligence Agency ("Etemad," 4 January 2006).
An editorial in a hard-line daily also expressed outrage over "The Nights Of Barareh," which it accused of having "populist implications and demagogic repercussions" ("Jomhuri-yi Islami," 10 January 2006). The editorial criticized Zarghami's visit to the program's set, and it expressed shock and horror that not only is the program being transmitted on IRIB's international Sahar network, but it is even being shown with subtitles in foreign languages. The editorial said people are using state resources to "wage war on the revolution and carry out the evil plot of 'derevolutionizing.'"
Unexpected Opposition
Zarghami is an unexpected source of opposition to the Ahmadinejad administration's cultural policies. Appointed in May 2004 as a successor to the long-serving Ali Larijani, Zarghami is a veteran of the Islamic Revolution Guards Corps (IRGC), as are Ahmadinejad and many other top government officials. Moreover, the Interior Ministry accused IRIB of favoring hard-line candidates during the 2005 presidential campaign and, in his speeches, Zarghami does not come across as anything but a hard-liner.
Although Zarghami is an IRGC veteran and a political conservative, he does not appear to be politically linked with Ahmadinejad and his political allies in the Islamic Revolution Devotees' Society (Jamiyat-i Isargaran-i Inqilab-i Islami) and the Islamic Iran Developers Council (Etelaf-i Abadgaran-i Iran- i Islami). Zarghami was appointed by Supreme Leader Ayatollah Ali Khamenei, and Larijani probably backed the appointment. Larijani is associated with more old-school conservatives in the Coordination Council of Islamic Revolution Forces, and it is likely that this is where Zarghami's sympathies lie. The conflict over Barareh reflects these divisions.
This may be a conflict that the Ahmadinejad administration cannot win, but it shows no sign of going back on its policy objectives. And, in the case of culture, according to Islamic Culture and Guidance Minister Safar-Harandi, the president's policy is based on a reversion to the ideals of the Islamic Revolution (IRNA, 17 November 2005).
The budget submitted by Ahmadinejad in January is a manifestation of this emphasis on revolutionary ideals and an Islamic revival, with the amount of money allocated to religious institutions and outreach entities increasing while the amount dedicated to political parties actually decreasing. Among the entities enjoying a budget increase in excess of 100 percent is the Center for Computer Research and Islamic Sciences (Markaz-i Tahqiqat-i Komputer va Olum-i Islami), the Islamic Encyclopedia Foundation (Bonyad-i Daeratolmaaref-i Islami), and the Institute for the Encyclopedia of Shi'ite Religious Jurisprudence (Moasseseh-yi Daeratolmaaref-i Fiqh-i Shieh). Also enjoying a more-than-100-percent budget increase are the Islamic Culture and Thought Research Center (Pazhuheshgah-i Farhang va Andisheh-yi Islami), the Center for Seminary Services (Markaz-i Khadamat-i Howzehha-yi Elmiyeh), the Sisters' Seminary (Howzeh-yi Elmiyeh-yi Khaharan), and the World Assembly of the Prophet's Family (Majma-i Jahani-yi Ahl-i Beyt), the daily "Etemad" reported on 15 February.
Legislators are already beginning to register their unhappiness with the way the money is being allocated in the budget.
The Iranian Revolution
Iranians demonstrate in Tehran on February 10, 1979, shortly after the return to Iran of Ayatollah Ruhollah Khomeini (epa)
THE ISLAMIC REPUBLIC: Iran's 1979 revolution ended 2,500 years of monarchy and established the world's first modern theocracy. In February 2004, on the 25th anniversary of that event, RFE/RL produced a special report on how the ensuing years have measured up to the expectations of those times.
"I had been freed from jail in those days, and I hoped that the [revolutionary] forces would bring democracy and progress for the country, despite the religious leadership that caused some doubts, I hoped that the press would be free, the books would be published without censorship, [political] parties, associations and civil society organizations would be formed, and I hoped that I would be able to write freely. In fact, in these 25 years, I have not seen anything but the death and silencing of those beautiful hopes and dreams," Faraj Sarkouhi, an exiled writer and journalist, told RFE/RL....(more)
ARCHIVE
RFE/RL's reporting on Iran.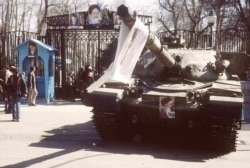 A tank bearing a portrait of Ayatollah Ruhollah Khomeini takes up a position in Tehran on February 12, 1979 (epa)