PRAGUE, 22 February 2006 (RFE/RL) -- Although the Iranian delegation left the negotiation table rather abruptly, Russia maintains the talks ended "as scheduled."
Addressing reporters after the meeting, Russia's Foreign Minister Sergei Lavrov made a guarded assessment: "We will, of course, inform you about the outcome. But I would refrain from using such terms as 'collapse,' 'absence of success,' or 'failure' until the talks are actually over."
The reaction of Ali Hosseinitash, the head of the Iranian delegation, contrastedwith that of Lavrov: "We discussed Russia's [enrichment] offer. As we said before, we view this proposal positively. But we agreed that the plan should be widened in the framework of a broader formula to which we will agree [at a later date]."
Critics will likely take Hosseinitash's comments as further evidence that Iran is playing for time in a bid to delay the referral of its nuclear dossier to the United Nations' Security Council.
International Pressure
The United States and the European Union are pressing Tehran to stop all suspicious nuclear activities and are looking ahead toward 6 March, when the UN's International Atomic Energy Agency is due to report on Iran to the Security Council. Russia is also concerned about Iran's suspected nuclear plans, but is trying to avoid referral before the Security Council.
Aleksei Arbatov heads the International Security Center at the Russian Academy of Sciences' World Economy and International Relations Institute (IMEMO). He tells our correspondent that, as Hosseinitash indicated, Tehran has plenty of reasons to be satisfied with the Moscow talks.
"To the Iranians, any talks are positive because they give them an opportunity for diplomatic maneuver. They see these negotiations on the possible creation of a plant specialized in uranium enrichment outside Iran as a way to ease the pressure exerted by the United States, Western Europe, and even Russia," Arbatov said. "As a matter of fact, Iran is not looking forward to seeing anything [concrete] come out of these talks. What Iran wants is to have its own nuclear fuel cycle. Why? That's another question."
To alleviate international concerns that Tehran may be seeking to develop nuclear weapons, Russia has offered to enrich Iran's uranium on its soil. The enriched uranium would then be shipped to Iran and the spent fuel sent back to Russia for reprocessing.
Iranian negotiators have made contradictory signals about the Russian offer, saying alternatively they were interested and not interested. More recently, they said they were seeking additional guarantees.
Tajik-born Rajab Safarov heads the Moscow-based Center for Studies on Modern Iran. He tells RFE/RL's Tajik Service that Tehran insists on three things: "First, [Iran would like] to enrich part of its uranium on its soil. Second, it would like its specialists to participate in the enrichment process in Russia. Thirdly, it would like to give this joint venture an international character with the inclusion of countries other than Russia. That would give it more reliable guarantees that it will not depend on the will and mood of one single party because [should Russia decide] to stop shipping [nuclear] fuel to Iran, it would have to secure the consent of several countries."
Opening Up The Proposal
Among countries Iran would like to see take part in the future joint venture is China.
Economic ties between Tehran and Beijing have been rapidly developing, especially in the energy field. China currently imports nearly one-fifth of its oil from Iran and both countries are expected to sign a major oil-development project next month.
Officially at least, Moscow is not objecting to Beijing's participation in the project. Russian analysts, however, believe it will never agree to letting Iranian experts access to highly sensitive nuclear technologies. Because of that, they say Tehran is unlikely to accept Moscow's offer as it stands.
But Arbatov of IMEMO believes Russia has several options to make its enrichment proposal attractive to Iran. "Possible topics for discussion are multiple, starting with the extension of the Bushehr [nuclear plant] project. I suspect Russia is trying to make Iran understand that, should it give up plans to have a full nuclear fuel cycle, it could supply it with not just one reactor -- which is nearing completion -- but five, 10, or even 15," Arbatov said.
I suspect Russia is trying to make Iran understand that, should it give up plans to have a full nuclear fuel cycle, it could supply it with not just one reactor -- which is nearing completion -- but five, 10, or even 15
"That would effectively help Iran build a powerful nuclear-based energy sector and [Tehran] is currently considering this possibility. Another option would be [for Russia] to equip Iran with uranium conversion facilities. Iran would then be able to buy ore on the world market, convert it into uranium hexafluoride and send [this chemical compound] abroad for enrichment. This is probably something Russia is offering Iran. In that case, the nuclear fuel cycle would be cut into several segments, with Iran controlling only some of them and leaving other key sectors, such as enrichment, to other countries."
Finally, Arbatov says Russia could boost its already flourishing military ties with Iran by supplying it with air-defense anti-missile systems and other weapons Tehran deems essential to its security.
Moscow in December 2005 signed a deal for the sale of nearly 30 Tor-M1 air-defense missile systems to Iran. As the international dispute over Tehran's nuclear program was gaining momentum, Russia last month reportedly decided to shelve talks on the possible sale to the Iranian armed forces of more powerful missile systems known as S-300.
Upon his departure from the Russian capital on 21 February, Iran's negotiator Hosseinitash said the discussions had gone beyond the possible creation of an enrichment joint venture.
Echoing those remarks, Iran's Supreme National Security Council Secretary Ali Larijani today said the enrichment offer was just one of "several proposals" that could be finalized.
Sergei Kiriyenko, the head of the Russian atomic energy agency, is expected to discuss at least part of these various proposals when he goes to Tehran later this week.
Initially scheduled for 1 March, Kiriyenko's visit was brought forward to 23 February, apparently at the last minute.
Arbatov believes the decision was made to give Russia more time before the Security Council examines Iran's nuclear issue.
"Should an agreement [with Iran] be reached, it has to be done before 6 March. It is no longer possible to start talks in early March because things are developing too rapidly," he says.
(Rasul Shadiyev of RFE/RL's Tajik Service contributed to this report)
Security Guarantees For Iran?
Security Guarantees For Iran?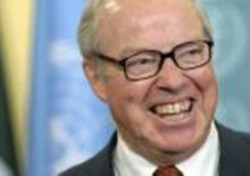 Hans Blix (CTK)

SECURITY GUARANTEES On January 26, RFE/RL Radio Farda correspondent Fatemeh Aman spoke with former UN chief weapons inspector HANS BLIX about the confrontation between Iran and the international community over Tehran's nuclear ambitions. Blix urged the United States to participate in direct negotiations with Tehran and to offer Iran security guarantees that are similar to those being discussed with North Korea...(more)
LISTEN
Listen to the complete interview (about five minutes):

Real Audio
Windows Media

THE COMPLETE STORY: RFE/RL's complete coverage of controversy surrounding Iran's nuclear program.