PRAGUE, 23 February 2006 (RFE/RL) -- The attack sparked fury, with thousands of Shi'a spilling into streets across the country to condemn the assault on one of their holiest shrines.
There were appeals for calm from Prime Minister Ibrahim al-Ja'fari and the country's top Shi'ite cleric, Grand Ayatollah Ali al-Sistani.
But they appear to have gone unheeded.
Sunni Mosques Targeted
At least 50 people have been killed across the country in the past day, and dozens of Sunni mosques have been attacked.
The muezzin of a mosque in Ba'qubah showed Reuters where bullet holes pockmarked the door and walls.
"The mosque was attacked at dawn -- five minutes after the call for dawn prayer," the unidentified muezzin said. "We have five guards at the mosque, and after prayer call they returned to their room. And then two cars drove near the gate of the mosque and gunmen armed with AK-47 assault rifles and machine guns stormed the guard rooms. There were three guards in the room, and they showered them with a hail of bullets and also threw two hand grenades at them before running away."
There were other apparent reprisals.
A Slide Toward Civil War?
In Al-Basrah, gunmen stormed a prison and killed 11 suspected Sunni militants.
Three journalists working for Al-Arabiyah television were found shot dead after being attacked while filming in Samarra.
The violence has sparked fears Iraq could slide toward civil war.
President Jalal Talabani warned of that danger in a televised address, the mere mention of the words an indication of the seriousness of the situation.
Through White House spokesman Scott McClellan, U.S. President George W. Bush urged Iraqis to show restraint.
"[U.S. President George W. Bush asks] all Iraqis to exercise restraint in the wake of this tragedy, and to pursue justice in accordance with the laws and constitution of Iraq," McClellan said. "Violence will only contribute to what the terrorists sought to achieve by this act."
No Claim Of Responsibility
Amid the violence, it's still unclear who was responsible for reducing Samarra's Golden Mosque to rubble.
The United States blamed terrorists, and Iraqi officials pointed the finger at Al-Qaeda. Iran blamed Israel and the United States.
Whoever is responsible, there's already a political spillover. The main Sunni political group in Iraq boycotted a planned meeting today with Talabani and other politicians in protest at what it says is the government's failure to protect Sunni sites.
(compiled from agency reports)
Reactions To The Samarra Attack
Reactions To The Samarra Attack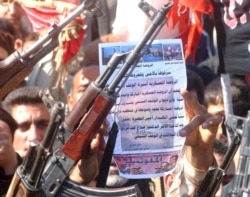 Demonstrators in Baghdad on February 23 (epa)
Iraqi religious and government leaders, as well as international officials, condemned the February 22 bomb attack that wrecked the Golden Mosque, a major Shi'ite Muslim shrine in Samarra. Below is a selection of statements on the incident.

"This new ugly crime comes as a warning that there is a conspiracy against the Iraqi people to spark a war among brothers. God willing, we will not allow this.... We must cooperate and work together against this danger, the danger of civil war. This is the fiercest danger because it threatens our unity and our country with a devastating civil war." -- Iraqi President Jalal Talabani

"The timing of this crime indicates that one of its aims is to stall the political process and to hamper the negotiations on the formation of a national-unity government." -- President Talabani

"I announce on this occasion three days of mourning. I hope our heroic people will take more care on this occasion to bolster Islamic unity and protect Islamic brotherhood and Iraqi national brotherhood." -- Iraqi Prime Minister Ibrahim al-Ja'fari

"Oh honorable people of Samarra! We should stand as one, united in confronting terrorism.... This assault is an assault on all Muslims." -- Iraqi Interior Minister Bayan Jabur

"They will fail to draw the Iraqi people into civil war as they have failed in the past." -- Iraqi National Security Adviser Muwaffaq al-Rubay'i

"If the security systems are unable to secure necessary protection, the believers are able to do so with the might of God." -- Shi'ite spiritual leader Grand Ayatollah Ali al-Sistani

"We will not only condemn and protest but we will act against those militants. If the Iraqi government does not do its job to defend the Iraqi people we are ready to do so." -- Shi'ite cleric Moqtada al-Sadr, speaking through spokesman Abdel Hadi al-Darajee
(compiled by Reuters)

For more reactions, click here and here.



Click the image to view RFE/RL's complete coverage of events in Iraq and that country's ongoing transition.