Iraq: The Threat Of 'A Devastating Civil War'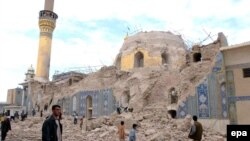 Samarra's Golden Mosque on 22 February (epa) Iraqi religious and government leaders, as well as international officials, condemned the 22 February bomb attack that wrecked the Golden Mosque, a major Shi'ite Muslim shrine in Samarra. Below is a selection of statements on the incident.
"This new ugly crime comes as a warning that there is a conspiracy against the Iraqi people to spark a war among brothers. God willing, we will not allow this.... We must cooperate and work together against this danger, the danger of civil war. This is the fiercest danger because it threatens our unity and our country with a devastating civil war." -- Iraqi President Jalal Talabani

"The timing of this crime indicates that one of its aims is to stall the political process and to hamper the negotiations on the formation of a national-unity government." -- President Talabani

"I announce on this occasion three days of mourning. I hope our heroic people will take more care on this occasion to bolster Islamic unity and protect Islamic brotherhood and Iraqi national brotherhood." -- Iraqi Prime Minister Ibrahim al-Ja'fari

"Oh honorable people of Samarra! We should stand as one, united in confronting terrorism.... This assault is an assault on all Muslims." -- Iraqi Interior Minister Bayan Jabur

"They will fail to draw the Iraqi people into civil war as they have failed in the past." -- Iraqi National Security Adviser Muwaffaq al-Rubay'i

"If the security systems are unable to secure necessary protection, the believers are able to do so with the might of God." -- Shi'ite spiritual leader Grand Ayatollah Ali al-Sistani

"We will not only condemn and protest but we will act against those militants. If the Iraqi government does not do its job to defend the Iraqi people we are ready to do so." -- Shi'ite cleric Moqtada al-Sadr, speaking through spokesman Abdel Hadi al-Darajee

"The comments of the U.S. ambassador were not responsible. He did not behave like an ambassador and his comments were a reason for more pressure and light for the terrorist groups. Therefore he bears some of the responsibility." -- Abdul Aziz al-Hakim, leader of the Shi'ite SCIRI party, speaking about comments about the dangers of sectarianism made earlier this week by U.S. Ambassador Zalmay Khalilzad

"[The party] strongly condemns this sinful act and calls for a wide-reaching and objective investigation to catch those behind this crime that aims to harm the Iraqi people by provoking destructive sectarian strife." -- a statement issued by the Iraqi Islamic Party
"This is a political crime and its origins should be found in the intelligence organizations of the occupiers of Iraq and the Zionists.... There are definitely some plots to force Shi'ites to attack the mosques and other properties respected by the Sunnis. Any measure to contribute to that direction is helping the enemies of Islam and is forbidden by Shari'a."
-- Iranian Supreme Leader Ayatollah Ali Khamenei

"We denounce in the strongest terms the terrorist destruction of the Golden Mosque.... This heinous crime is a deliberate attempt to foment sectarian strife in Iraq and the region. Given the historic, cultural, and religious importance of this shrine, this attack is a crime against humanity." -- U.S. Ambassador to Iraq Zalmay Khalilzad and Multinational Force-Iraq commander U.S. General George Casey, in a joint statement
(compiled by Reuters)
Islam In A Pluralistic World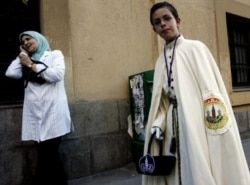 A Muslim woman (left) watches a Christian procession in Madrid in March (AFP)


READ
CONFERENCE ON ISLAM:
A major international conference on Islam concluded in Vienna in November 2005 with strong appeals from prominent Muslim leaders to recognize international terrorism as simply "terrorism." Political figures from Islamic countries, including the presidents of Iraq and Afghanistan, argued that it should never be labeled "Islamic" or "Muslim" terrorism because Islam is based on peace, dialogue, and tolerance. "Salaam" -- meaning "peace" -- was the key word of the three-day conference, titled "
ISLAM IN A PLURALISTIC WORLD
."
Iraqi President Jalal Talibani and Afghan President Hamid Karzai used the word in their remarks to emphasize the peaceful nature of Islam. Other speakers quoted passages from the Koran to the effect that all men and women, regardless of faith, are creatures of God and should live in peace with each other without discrimination
...(more)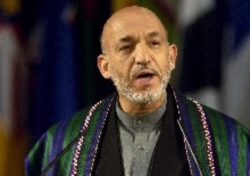 LISTEN
Listen to Afghan President
HAMID KARZAI
's complete address to the Vienna conference (in English):
Real Audio
Windows Media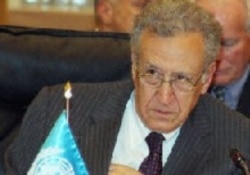 LISTEN
Listen to UN special envoy
LAKHDAR BRAHIMI
's complete address to the Vienna conference (in English):
Real Audio
Windows Media
THE COMPLETE PICTURE:
Click on the image to view a thematic webpage devoted to issues of religious tolerance in RFE/RL's broadcast region and around the globe.