PRAGUE, 23 February 2006 (RFE/RL) -- Iraqis today continued reacting -- often violently -- to the previous day's bombing of a major Shi'ite shrine in Samarra.
The Interior and Defense ministries announced a nationwide state of alert late on 22 February, Al-Sharqiyah television reported. The alert went into effect at 6 a.m. on 23 February and requires all off-duty security forces personnel to return to their posts.
Extended curfew hours -- from 8 p.m. to 6 a.m. -- have also been put into place in Baghdad and other cities.
Call For Unity
Abd al-Aziz al-Hakim, head of the Supreme Council for the Islamic Revolution in Iraq (SCIRI), called on Iraqis to unite to drive terrorism from the country at a 22 February press briefing in Baghdad, RFE/RL's Radio Free Iraq (RFI) reported.
"There must be unity among Iraq, the Arab nation, the Islamic nation, the Islamic peoples, and Arab peoples to produce a unified bloc against terrorism, which is a dangerous disease in Iraq," al-Hakim said.
Al-Hakim stressed that any disruption to the process of trying to form a national-unity government must be temporary.
"There must be unity among Iraq, the Arab nation, the Islamic nation, the Islamic peoples, and Arab peoples to produce a unified bloc against terrorism, which is a dangerous disease in Iraq."
"Dialogues are supposed to continue," al-Hakim said. "Of course, Sunnis, Shi'ites, and political blocs are grief-stricken.... We cannot continue our dialogue in a normal manner while we suffer from this calamity."
Al-Hakim also commented on remarks by U.S. Ambassador Zalmay Khalilzad on 20 February urging Shi'a to form a national-unity government.
"The ambassador's remarks were not made responsibly...," al-Hakim said. "These statements were a reason for more pressure and for giving a green light to terrorist groups. Consequently, [Khalilzad] shoulders part of the responsibility."
Calls For Protection For Sunnis
The Sunni Arab Iraqi Accordance Front said it would not attend a 23 February meeting called by President Jalal Talabani to discuss an easing of tensions, RFI reported.
Iyad al-Samarra'i, a senior official with the front told Reuters that the front boycotted the meeting after the government failed to protect Sunni mosques from the violence that broke out across Iraq following the Samarra bombing.
At least 54 Sunnis, including three imams, have been killed in reprisal attacks across Iraq in the past 24 hours, Iraqi officials announced on 23 February.
In Al-Basrah, gunmen wearing police uniforms stormed a prison and dragged out 11 Sunni Arab detainees who were all later found dead of gunshot wounds. Egyptian and Saudi nationals were among the detainees killed, Al-Jazeera television reported on 22 February.
Tariq al-Hashimi, the head of the Iraqi Islamic Party and a member of the Iraqi Accordance Front, said at a 22 February press briefing in Baghdad that Sunni Arabs were under siege in Iraq after Shi'a launched retaliatory attacks in a number of cities, RFI reported.
At Least 50 Sunni Mosques Attacked
Al-Hashimi said at least 29 Sunni mosques had been attacked across Iraq. According to the latest media reports, that number is now at least 50.
"All types of weapons, including rockets and hand grenades were used in the attacks," he said.
The Al-Basrah office of the Iraqi Islamic Party was attacked by some 700 people, al-Hashimi said, charging that police had aided the demonstrators in setting fire to the building. He said the party's Baghdad office in Al-Rasafah was occupied by a mob and later burned to the ground, and he blamed the government for failing to provide protection to Sunnis.
"We told [the authorities]: 'You are responsible for security in the country and the situation is getting out of control. This crisis must be contained,'" al-Hashimi said. "Despite these appeals, attacks on mosques increased with time."
The Sunni-led Iraqi Front for National Dialogue, another party in the Iraqi Accordance Front, said in a 22 February statement read by Salih al-Mutlaq that the attack on the Golden Mosque in Samarra was carried out by parties that have "absolutely nothing in common with Islam and Muslims," Al-Sharqiyah television reported.
"We will not be divided by such criminal and spineless acts that seek to rattle Iraq's security and endanger the lives of innocent Iraqis," the statement said.
The front called on the people of Iraq and the Arab and Islamic world "to stand as one in the face of these vile conspiracies, whose only goal is to destroy the homeland and security of its people."
Reactions To The Samarra Attack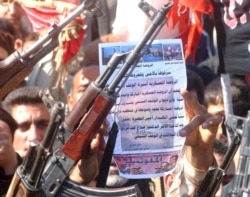 Demonstrators in Baghdad on February 23 (epa)
Iraqi religious and government leaders, as well as international officials, condemned the February 22 bomb attack that wrecked the Golden Mosque, a major Shi'ite Muslim shrine in Samarra. Below is a selection of statements on the incident.

"This new ugly crime comes as a warning that there is a conspiracy against the Iraqi people to spark a war among brothers. God willing, we will not allow this.... We must cooperate and work together against this danger, the danger of civil war. This is the fiercest danger because it threatens our unity and our country with a devastating civil war." -- Iraqi President Jalal Talabani

"The timing of this crime indicates that one of its aims is to stall the political process and to hamper the negotiations on the formation of a national-unity government." -- President Talabani

"I announce on this occasion three days of mourning. I hope our heroic people will take more care on this occasion to bolster Islamic unity and protect Islamic brotherhood and Iraqi national brotherhood." -- Iraqi Prime Minister Ibrahim al-Ja'fari

"Oh honorable people of Samarra! We should stand as one, united in confronting terrorism.... This assault is an assault on all Muslims." -- Iraqi Interior Minister Bayan Jabur

"They will fail to draw the Iraqi people into civil war as they have failed in the past." -- Iraqi National Security Adviser Muwaffaq al-Rubay'i

"If the security systems are unable to secure necessary protection, the believers are able to do so with the might of God." -- Shi'ite spiritual leader Grand Ayatollah Ali al-Sistani

"We will not only condemn and protest but we will act against those militants. If the Iraqi government does not do its job to defend the Iraqi people we are ready to do so." -- Shi'ite cleric Moqtada al-Sadr, speaking through spokesman Abdel Hadi al-Darajee
(compiled by Reuters)

For more reactions, click here and here.



Click the image to view RFE/RL's complete coverage of events in Iraq and that country's ongoing transition.