The report said that in both cities the bombs were planted in the office of the local governor.
Dezful and Abadan lie in the oil-producing province of Khuzestan, which has seen ethnic tensions between Iranian authorities and the Arab minority over the past year.
The provincial capital Ahvaz, home to a large community of ethnic Arabs, has been hit by a string of bombings in recent months.
Iranian officials have accused British forces in neighboring Iraq of being behind the unrest. Britain denies the charges.
(Reuters, AFP)
Iran's Arab Minority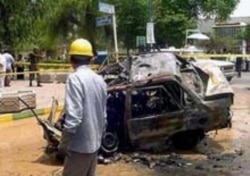 The aftermath of a car bombing in Ahvaz on June 12, 2005 (epa)
DISCONTENT IN THE SOUTH: There are approximately 2.07 million ethnic Arabs in Iran (3 percent of the total population of 69 million), most of them living in the region around the southern city of Ahvaz. The region has been the scene of numerous terrorist attacks and demonstrations over the years. Arab groups cite historical grievances, and they bemoan inadequate attention to their culture and language by state media....(more)
RELATED ARTICLES
Handling Of Ahvaz Unrest Could End With Televised Confessions
Bombing Accusations Highlight 'Differences And Disagreements'
Bombings In Southwest Blamed On Usual Suspect