Germany Denies Giving U.S. Prewar Intelligence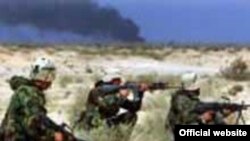 U.S. soldiers during an operation in Iraq (file photo) (official site) 27 February 2006 -- Germany today denied reports that it gave the United States intelligence on Iraq before the 2003 U.S.-led invasion.
The U.S. newspaper, "The New York Times"
made the claim
, citing what it said was a classified U.S. military report as the basis for its story.
The newspaper wrote that Germany passed information to Washington on Saddam Hussein's defense plans for the city of Baghdad in the event of an invasion.
But German government spokesman Ulrich Wilhelm said in Berlin today that the report was "false." He said Germany's intelligence services did not have access to Saddam Hussein's military plans before the war.
Germany strongly opposed the U.S.-led military operation in Iraq.
(dpa, AFP)


SUBSCRIBE For weekly news and analysis on Iraq by e-mail,
subscribe to "RFE/RL Iraq Report."