Chechnya's Prime Minister Resigns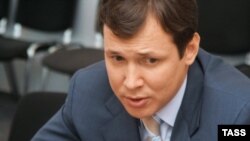 Outgoing Chechen Prime Minister Abramov (file photo) (ITAR-TASS) 28 February 2006 -- The prime minister of Chechnya's pro-Moscow administration has resigned.
Chechen President Alu Alkhanov told reporters in Moscow that Prime Minister Sergei Abramov had stepped down because of ill health following a car accident last year.
Alkhanov did not say who would replace him.
Correspondents say a likely candidate would be Ramzan Kadyrov, who has been serving as caretaker prime minister since Abramov's accident in November. Kadyrov is the son of Chechnya's former pro-Moscow ruler Akhmed Kadyrov, who was assassinated in 2004.
(Reuters, AFP)


RFE/RL's complete coverage of Russia's war-torn Republic of Chechnya.
CHRONOLOGY
An
annotated timeline
of the Chechnya conflict.