Bush Says Iran Must Not Have Nuclear Weapon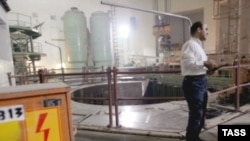 Iran's Russian-built nuclear power station under construction in Bushehr (ITAR-TASS) 1 March 2006 -- U.S. President George W. Bush says Iran must not be allowed to develop nuclear weapons.
But, Bush said, Iran should be allowed to have a civilian nuclear program. He was speaking at a news conference in the Afghan capital, Kabul.
"The most destabilizing thing that can happen in this region and in the world is for Iran to develop a nuclear weapon, and so the world is speaking with one voice to the Iranians that 'it is okay for you to have a civilian nuclear-power operation, but you shall not have the means, the knowledge, to develop a nuclear weapon,'" Bush said.
Nuclear talks are continuing today in Moscow on a Russian proposal to form a joint venture to enrich Iran's uranium in Russia. The proposal is intended to allay international concerns over Iran's nuclear program.
Iran's chief nuclear negotiator, Ali Larijani, was quoted today by Russian news agencies as saying there was no need for Tehran to resume a moratorium on uranium enrichment. Larijani said all Iranian nuclear activities are "transparent."
(compiled from agency reports)

THE COMPLETE PICTURE: RFE/RL's complete coverage of controversy surrounding Iran's nuclear program.
CHRONOLOGY
An
annotated timeline
of Iran's nuclear program.