U.S. Diplomat Killed In Karachi Bomb Attack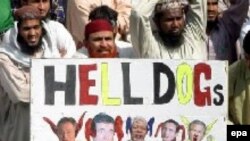 Pakistani protesters share their thoughts on a range of Western leaders during anti-Western protests in mid-February (file photo) (epa) March 2, 2006 -- A car-bomb attack near the U.S. Consulate and a luxury hotel in the Pakistani port of Karachi, killing at least three people and wounding others.
One of those killed was a U.S. diplomat. His identity was not immediately disclosed.
No one has claimed responsibility for the attack.

The attack comes two days ahead of a visit to Pakistan by U.S. President George W. Bush.
Speaking in India, Bush said that despite the attack he is determined to make his visit to Pakistan.
"Terrorists and killers are not going to prevent me from going to Pakistan," Bush said. "It is important to talk with President [Pervez] Musharraf about continuing our fight against terrorists. After all, he has had a direct stake in this fight. Four times, the terrorists have tried to kill him."
Pakistan is a key U.S. ally in the war against terror.
(AP, dpa, Reuters)