Russia: What Is Moscow Expecting From Hamas Visit?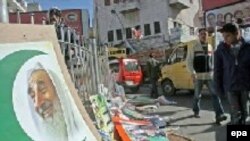 Hamas was the surprise winner of Palestine's January elections (epa) Russian officials are preparing to receive leaders of the radical Palestinian group Hamas for two days of talks starting on March 3. Russia has sought to soothe international concerns raised by President Vladimir Putin's invitation to Hamas by insisting that the purpose of the talks is to persuade the group to temper its policies and renounce violence. But is this Russia's sole motive in hosting the Hamas leaders?
MOSCOW, March 2, 2006 (RFE/RL) -- Putin's surprise overture to Hamas in early February stunned Israel and Russia's partners in the Middle East Quartet of international mediators: the United States, the European Union, and the United Nations.
Putin's invitation -- which followed Hamas's crushing victory in Palestinian parliamentary elections in January -- openly defies the will of the Quartet, which has branded Hamas a terrorist organization and rejected dialogue with the group unless it lays down its arms.
Israel Not Impressed
The move therefore prompted angry reactions from Israeli officials, who warned Russia against granting legitimacy to a group that has claimed responsibility for a number of attacks in Israel and against Israelis in the occupied Palestinian territories.
The Russian president has defended his decision by saying Hamas has been elected in a democratic way and pointing out that Russia had never recognized the group as a terrorist organization.
In an attempt to defuse the tension surrounding the upcoming talks with Hamas, Russian Foreign Minister Sergei Lavrov, who will meet the Hamas delegation on Friday, vowed he would urge the movement to renounce violence and recognize Israel.
Observers, however, have little hope the talks will result in any major breakthrough.
Khalid Mish'al, the group's top leader who will head the delegation, himself said that Hamas was "ready to discuss all possible ideas with Russia but rejected the possibility of recognizing Israel.
Playing The Mediator Role
So why is Russia suddenly so eager to take on the role of top mediator between Israel and Hamas?
Vladimir Pribylovsky, the director of the Panorama think tank in Moscow, says Russia's invitation to Hamas reflects its ambition to bolster its diplomatic clout in the Middle East.
"Putin wants to play a mediation role in order to boost the authority of Russia, and his own -- or, at any rate, give the impression that Russia plays an important role and that he has the power to advance a settlement in the Middle East," Pribylovsky says.
Pribylovsky's view is shared by many other analysts.
Russia may be particularly eager to present itself as an influential player in world affairs -- a status that largely disintegrated with the Soviet Union -- since it now holds the presidency of the G8 group of leading industrialized nations and will host its next summit in July.
Some have suggested that the upcoming Hamas talks could also signal Putin's desire to steer away from the Western-oriented policy of his predecessor Boris Yeltsin.
By extending an invitation to Hamas, however, Putin is taking the risk of souring relations with Israel and the United States.
While the United States has refrained from condemning Putin's decision, his comments on Hamas's legitimacy has drawn stinging criticism from Israel -- Israeli cabinet minister Meir Sheetrit said they amounted to "stabbing Israel in the back.
Middle East Strategy
But Putin's recent statement that Hamas's electoral victory was a "great blow"to the United States's Middle East policy has generated suspicion that the upcoming talks may be part of a larger strategy to undermine what Russia sees as Washington's dominance in world affairs.
Viktor Kremenyuk, the deputy director of the U.S.A.–Canada Institute in Moscow, says, "The fact that Putin is not united with the United States on this issue but, on the contrary, is against what the United States would have preferred, of course represents a blow to the United States's position."
In Russia, Putin's Hamas overture has been dismissed as a double standard by a number of observers who accuse the Russian president of initiating talks with the radical group -- whose charter calls for the destruction of Israel -- while seeking to crush separatist Islamic militants in war-torn Chechnya.
Some experts, however, are optimistic about the outcome of Hamas's Russian visit.
Aleksander Umnov, an expert on oriental studies at the Institute of World Economy and International Relations, predicts that Hamas will agree to soften its stance during the talks: "The [long-ruling] Fatah [party] and [late Palestinian leader Yasser] Arafat were also once considered terrorists by Israel. Nonetheless, they ended up becoming its partners in peace negotiations. Maybe Hamas will meet the same fate. I think Hamas will take a series of steps towards moderation."
Reports so far suggest that Putin will not meet the Hamas delegates during their two-day visit on March 3 and 4. Nonetheless, the talks in Moscow will mark the Palestinian militant group's first meeting with one of the key negotiators involved in the Israeli-Palestinian peace process.

SUBSCRIBE For news and analysis on Russia by e-mail,
subscribe to "RFE/RL Russia Report."