U.S. Denies Planning 2007 Withdrawal From Iraq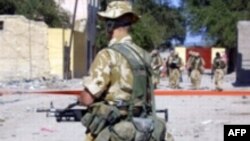 British troops in Al-Basrah (file photo) (AFP) March 5, 2006 -- The United States has denied reports saying Washington and London are planning to pull all of their troops out of Iraq by the spring of 2007.
Britain's "Sunday Telegraph" newspaper, citing unnamed senior sources in the British Defense Ministry, wrote on March 5 that the U.S. and British governments are planning a withdrawal because they now accept that the presence of foreign troops in Iraq is now a major obstacle to securing peace in the country.
Another British paper, the "Sunday Mirror," also carried a report on the planned withdrawal, saying the pullout would happen within 12 months.
Reuters quotes a Pentagon spokesman and a U.S. military official in Iraq as saying no such withdrawal plans have been made.
Meanwhile South Korea's Defense Ministry said it will next month begin reducing its force in northern Iraq as part of a plan that will see 1,000 of its 3,200-strong contingent leave Iraq this year.
(Reuters, AFP, AP)


SUBSCRIBE For weekly news and analysis on Iraq by e-mail,
subscribe to "RFE/RL Iraq Report."