PRAGUE, March 5, 2006 (RFE/RL) – The governors of the International Atomic Energy Agency (IAEA) will meet on March 6 in Vienna to decide what steps the international nuclear watchdog should take next over Iran's controversial nuclear activities. The likelihood is that Iran will be referred to the UN Security Council, which would then consider sanctions -- but that move, Iran warned today, would prompt it to resume uranium enrichment. At the same time, it held out the possibility of a diplomatic breakthrough.
Debate during the meeting will center on a report on Iran's nuclear program prepared by the organization's chief, Mohammad el-Baradei.
"Everything is possible; both agreement and disagreement."
The IAEA decided on February 4 to report Iran's case to the Security Council but it also ruled that the UN body should not take any concrete action until the March meeting. The IAEA had hoped Iran would use the month-long interlude to be more cooperative and transparent with the agency and, once again, to fully suspend all uranium-enrichment activities, including research and development activities. Neither has happened.
El-Baradei's report says that the UN's nuclear watchdog knows that Iran is expanding its uranium enrichment program but is not in a position to determine whether the program is entirely peaceful.
That conclusion has already prompted differing interpretations. The United States said the report "validates many of the concerns and issues " it has raised for years. Those include the fear that Iran may be secretly developing a nuclear weapons program. By contrast, Iran said last week that the report clears the country of accusations that its program is military in character. Tehran maintains its research is purely for peaceful purposes and therefore entirely legitimate.
Beyond The Walls Of The IAEA
The United States, which is a permanent member of the UN Security Council, could move quickly if the IAEA decides to refer the case to the Council, the highest authority in the UN. Reports suggest Washington could bring Iran's nuclear program up for debate by the end of next week.
But Iran has warned against such a move, and Russian and China -- Iran's economic partners and both members of the Security Council -- have been calling for a diplomatic solution.
Iran's top nuclear negotiator, Ali Larijani, said on March 5 that Tehran will resume full-scale uranium enrichment if it is referred to the UN Security Council.
Larijani reiterates that "Iran will not go back on" its determination to continue its nuclear research and development program.
"They should not think that by taking Iran's case to the Security Council they can achieve anything major," Larijani said of the IAEA. "They will create problems for themselves."
That came after a warning earlier in the day by a spokesman for the Foreign Ministry, Hamid Reza Assefi, who said that "threats and blackmailing" would not affect Iran's decision to continue research activities.
Also on March 5, the head of Iran's Atomic Energy Organization, Gholamreza Aqazadeh-Khoi, warned that referral to the Security Council was in nobody's interest.
He stressed that there are "intensive talks" under way between Iran and Russia, between Iran and Europe, and between Iran and the IAEA.
Asked whether a deal between Iran and Russia on a Russian proposal to enrich uranium on Iran's behalf is possible within a matter of hours, Assefi said "everything is possible; both agreement and disagreement."
The Russian proposal is seen as a possible way to prevent Security Council action against Iran, as it would allay Western fears that Iran could use access to uranium enrichment technology to produce nuclear weapons.
Enriched uranium can be used as fuel for civilian nuclear reactors but a high level of enrichment it can be used as a key ingredient for making nuclear bombs.
But despite several rounds of talks, Moscow and Tehran failed to reach a final agreement.
And nor did last-ditch talks between Iran and a trio of EU countries on March 3 bring any deal that could block a referral to the Security Council.
Chinese Foreign Minister Li Zhaoxing on March 5 urged Iran to resume talks with Russia and the European Union as soon as possible.
"The important thing is to peacefully and properly resolve the problem through diplomatic means," Zhaoxing said.
French President Jacques Chirac indicated on March 5 that the West would continue to seek a deal with Iran.
Chirac said "the hand remains stretched out, and Iran can, at any moment, take it back by restoring its commitment to suspension of sensitive [nuclear] work."
A March 4 report in the "Washington Post" suggested the West will increase the pressure in stages. The paper reported that Washington has prepared a draft statement ahead of the IAEA meeting in which it would give Tehran a 30-day deadline to halt its nuclear program and cooperate with IAEA inspectors or face tougher diplomatic pressure.
Measures reportedly being discussed by U.S. and EU diplomats include travel bans on Iranian officials, economic sanctions, and an oil embargo.
What Would Sanctions Mean?
What Would Sanctions Mean?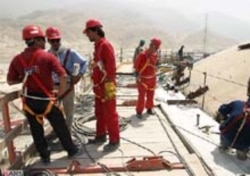 Economic sanctions could further undermine Iran's already shaky economy (Fars)


MOVING TOWARD SANCTIONS: If the United Nations Security Council imposes sanctions on Iran, domestic support for Iranian President Mahmud Ahmadinejad will wane, according to ALEX VATANKA, Eurasia editor for Jane's Information Group.
Vatanka told a February 24 RFE/RL briefing that "economic sanctions will hurt the average Iranian" and, consequently, many "will blame the ruling clerics" for making life difficult and "impairing the country's long term development."
Vatanka said sanctions would be a serious challenge to the Iranian government. If harsh economic sanctions were imposed, Iran's poorest population will be hurt the hardest -- and might react "as they did in the 1970s and protest in the streets." Sanctions on travel, Vatanka said, would hurt a many Iranians because "Iran is a nation of small traders" who depend on the ability to travel to earn an income. According to Vatanka, unemployment in Iran is estimated at 30 percent, "so small trading is essential to survival." Although current U.S. sanctions "haven't worked," he said, "Iranians fear an oil embargo." He stressed that "oil revenues are a major part of the economy, so it is critical to look at this sector."
Should negotiations with the European Union and the UN fail, Vatanka believes that Iran would follow a "North Korea model," since Ahmadinejad's base of support among the "Islamist militias" has been "urging withdrawal from the NPT [Nuclear Non-Proliferation Treaty]." The Iranian government's "tactic" so far, Vatanka said, is governed by the belief that "by shouting the loudest, you'll get concessions [from the West]."
LISTEN
Listen to the complete panel discussion (about 60 minutes):

Real Audio
Windows Media

THE COMPLETE STORY: RFE/RL's coverage of the controversy surrounding Iran's nuclear program.
CHRONOLOGY
An annotated timeline of Iran's nuclear program.