El-Baradei's prodding came as the 35 members of the IAEA governing board convened in Vienna to decide whether Iran's case should be referred to the Security Council for punitive measures. And while optimistic, his appeal for a mutually acceptable solution took on an urgent tone.
"The sticking point [in negotiations], as you have seen, remains the question of the centrifuge-related [research and development] and that issue is still, again, being discussed this week, and I am still very much hopeful that in the next week or so, an agreement could be reached," el-Baradei said.
Participants are expected to discuss the IAEA's latest report on Iran's nuclear activities, which was distributed to board members last week. That report says that -- despite three years of monitoring and verification efforts -- uncertainties remain over Iran's nuclear program.
A Call For Talks
El-Baradei noted today that the report will be sent to the UN Security Council, but he invited both sides to seek progress ahead of any UN debate.
"I will, as requested in February, transmit my report to the [UN] Security Council along with the other report I have transmitted to the council," el-Baradei said. "Whether the council will take the issue, discuss the issue, this is, obviously, is a matter to be seen and is very much dependent on progress on bringing the parties to the negotiating table."
The sooner those parties get back to the negotiating table, el-Baradei stressed, the better it will be "for everybody."
He warned that confrontation with Iran over its nuclear program could be counterproductive and was unlikely to produce a durable solution to the problem.
The IAEA board voted in early February to report Iran's nuclear case to the UN Security Council, after the country resumed small-scale uranium enrichment.
Tehran Says It Is Immune To Pressure
The agency has called on Iran to reinstate a suspension of all uranium-enrichment activities. But Iran remains defiant, and officials reject the idea of surrendering what they view as their country's "legitimate right."
Radio Farda correspondent Ahmad Rafat reports from Vienna that Iranian officials believe no new resolution will be adopted during today's meeting.
"The representatives of the Islamic republic who are lobbying and trying to gain support in the IAEA corridors are trying to convince the journalists and representative of nonaligned countries that Europe and the U.S. have reached no agreement on a resolution on Iran and that, therefore, there won't be any resolution," Rafat reported. "And, at the same time, they insist that Iran's talks with Russia have been successful."
The IAEA meeting in Vienna is expected to last several days.
Just hours before today's IAEA meeting, Iranian President Mahmud Ahmadinejad warned that his country will not change its nuclear course and will not give in to pressure.
On March 5, senior Iranian nuclear negotiator Ali Larijani said the country will not retreat on nuclear research and development, which he says are in Iran's national interest.
Larijani warned against a UN Security referral and said that such a move will create problems for the West.
"If Iran's nuclear case is referred to the UN Security Council, uranium enrichment will resume," Larijani said.
Washington and London have accused Tehran of secretly trying to develop nuclear weapons -- a charge that Iranian officials have consistently denied.
'Tangible And Painful' Consequences
Enriched uranium can be used as fuel for civilian reactors. But at high levels of enrichment, it can also be used to produce nuclear bombs.
U.S. Ambassador to the United Nations John Bolton said on March 5 that Iran could face "tangible and painful" consequences if it pushed ahead with uranium enrichment. But he also appeared to offer an alternative.
"If Iran follows the course of Libya and makes the strategic decision that the pursuit of weapons of mass destruction, the sponsorship of terror, and the oppression of its people makes it less -- not more -- secure, then relations with the outside world can improve dramatically," Bolton said.
Meanwhile, French President Jacques Chirac said today that efforts to convince Iran to forego some nuclear activities would continue even though Iran had "disappointed" the international community.
What Would Sanctions Mean?
What Would Sanctions Mean?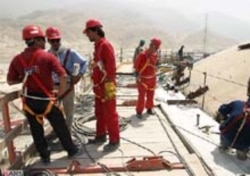 Economic sanctions could further undermine Iran's already shaky economy (Fars)


MOVING TOWARD SANCTIONS: If the United Nations Security Council imposes sanctions on Iran, domestic support for Iranian President Mahmud Ahmadinejad will wane, according to ALEX VATANKA, Eurasia editor for Jane's Information Group.
Vatanka told a February 24 RFE/RL briefing that "economic sanctions will hurt the average Iranian" and, consequently, many "will blame the ruling clerics" for making life difficult and "impairing the country's long term development."
Vatanka said sanctions would be a serious challenge to the Iranian government. If harsh economic sanctions were imposed, Iran's poorest population will be hurt the hardest -- and might react "as they did in the 1970s and protest in the streets." Sanctions on travel, Vatanka said, would hurt a many Iranians because "Iran is a nation of small traders" who depend on the ability to travel to earn an income. According to Vatanka, unemployment in Iran is estimated at 30 percent, "so small trading is essential to survival." Although current U.S. sanctions "haven't worked," he said, "Iranians fear an oil embargo." He stressed that "oil revenues are a major part of the economy, so it is critical to look at this sector."
Should negotiations with the European Union and the UN fail, Vatanka believes that Iran would follow a "North Korea model," since Ahmadinejad's base of support among the "Islamist militias" has been "urging withdrawal from the NPT [Nuclear Non-Proliferation Treaty]." The Iranian government's "tactic" so far, Vatanka said, is governed by the belief that "by shouting the loudest, you'll get concessions [from the West]."
LISTEN
Listen to the complete panel discussion (about 60 minutes):

Real Audio
Windows Media

THE COMPLETE STORY: RFE/RL's coverage of the controversy surrounding Iran's nuclear program.
CHRONOLOGY
An annotated timeline of Iran's nuclear program.