Wartime Croatian Serb Leader Commits Suicide In The Hague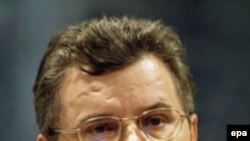 Milan Babic pictured in the dock in 2003. (epa) March 6, 2006 -- Milan Babic, the leader of rebel Serbs in Croatia and a key figure of the early Balkan wars of the 1990s, has committed suicide while in prison in the Netherlands for war crimes.
The UN war crimes tribunal in The Hague said in a statement that Babic was found dead on March 5 in his cell at a detention center in Scheveningen.
The tribunal said his death had been ruled to be suicide.
Babic was serving a 13-year sentence for persecuting non-Serb civilians. He was considered a key ally of former Yugoslav President Slobodan Milosevic.
A judge at the tribunal has ordered an inquiry into Babic's death.
(AP, Reuters)


For an archive of RFE/RL's coverage of the trial of former Yugoslav President Slobodan Milosevic, click here.
Of related interest:
RFE/RL Special: The Collapse Of Tito's Yugoslavia