Top of Putin's agenda in Budapest was to convince the Hungarians -- and the European Union -- that Russia is a reliable supplier of natural gas. Hungary currently receives over 80 percent of its gas supplies from Gazprom. On February 28, the day of Putin's arrival in Budapest, "The Wall Street Journal Europe" published an article by the Russian president, "Energy Egotism Is A Road To Nowhere," in which he wrote:
"Russia's attitude toward energy security remains clear and unchanged. It is our strong belef that energy redistribution guided wholly by the priorities of a small group of the most-developed countries does not serve the goals and purposes of global development. We will strive to create an energy security system sensitive to the interests of the whole international community."
Despite those words, Putin still lobbied on behalf of Russia's gas monopoly Gazprom.
Putin proposed that the Hungarians consider Gazprom's plan to construct a second section of the Blue Stream pipeline, which currently goes from Russia beneath the Black Sea to Turkey. The new section would continue to Hungary and then to Southeastern Europe. If that were to happen it could effectively scuttle plans for the construction of the Nabucco pipeline from Turkey to Austria, meant to diversify gas supplies and allow Iranian, Turkmen, Azerbaijani, and Kazakh gas to reach Europe, including Hungary.
Nabucco Pipeline Could Supply Romania
The Nabucco pipeline was initiated by the European Parliament and the Council of Europe on June 26, 2003, and its first section is to be finished in 2011. It has important strategic and economic significance as it offers an alternative to gas from Russia and will shake Gazprom's monopoly over gas supply to Romania.
The Hungarian state gas company, MOL, signed a joint venture agreement with Austria's OMV, along with Turkey's Botas, Bulgaria's Bulgargaz, and Romania's Transgaz on June 29, 2005 to build the 3,400 kilometer pipeline at an estimated cost of 4.6 billion euros ($5.5 billon). The pipeline would have a capacity to transport 4.5 to 13 billion cubic meters (bcm) a year by 2011. Capacity is estimated to reach 25.5 bcm to 31 bcm by 2020. Construction of the pipeline reportedly began in 2005.
By the same token, the extension of the Blue Stream pipeline would also put into question the rationale for the Hungarian-Croatian agreement to build a 340 kilometer pipeline between the Adriatic coast and Hungary and a liquefied natural gas terminal on the island of Krk, off the Croatian coast.
Is Gazprom Eyeing Hungary?
Another item on Putin's agenda was the possibility of Gazprom buying the wholesale division of MOL, the Hungarian oil and gas company. MOL controls the Hungarian gas pipeline system that Gazprom has been seeking to buy for years. It is unclear, however, whether the Hungarians are willing to sell.
On February 9, Gazprom CEO Aleksei Miller met with Hungarian Finance Minister Janos Veres to discuss a number of projects, among them the possibility of creating a natural gas hub in Hungary and a large gas facility capable of storing 1.2 bcm of gas. No decisions were reached at the meeting and apparently it was a prelude to the Putin visit where talks about these projects were supposed to continue. It was unclear whether or not the delegations spoke about those projects.
Most gas industry analysts believe that it will be difficult for Russia to sideline the Nabucco pipeline and that the Romanians and the Hungarians are not willing to give it up in return for gas via Blue Stream. At best, both projects could coexist -- providing Gazprom agrees to this and does not buy up all gas production in Central Asia, as it has already done in Turkmenistan, in order to prevent that gas from entering Nabucco.
Russia's Gas Strategy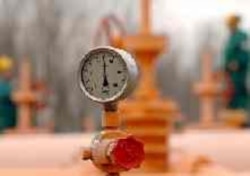 RUNNING HOT AND COLD The crisis over Russian supplies of natural gas to Ukraine that erupted on New Year's Day has implications that spread well beyond these two countries and will impact both economic and political policymaking throughout Europe. On January 19, RFE/RL's Washington, D.C., office hosted a briefing the examined the ramifications of the natural-gas conflict.
CLIFFORD GADDY, a senior fellow at the Brookings Institution, outlined Russia's "grand energy strategy," in which Ukraine is perceived as merely an obstacle frustrating Russia's energy ambitions in Western Europe and therefore a nonentity in Russia's broader strategic planning. According to Gaddy, Russia's strategic goal regarding energy is to maximize the role of its own energy resources in the world energy markets, so as to increase its geopolitical influence. To do this, it must reduce competition and maximize dependency on its own energy resources, as well as ensure a stable supply.
TARAS KUZIO, a visiting assistant professor at George Washington University, rebutted Gaddy's argument, claiming that Russia's actions evidenced a complete lack of geopolitical strategy and resulted in strong denunciations by Western countries and a loss of political allies in Ukraine. According to Kuzio, Russian President Vladimir Putin's desire to have a deal signed by the January 4 European Union energy summit outweighed his hope of reinforcing opposition to Ukrainian President Viktor Yushchenko during the run-up to Ukraine's March 26 parliamentary elections.
RFE/RL Coordinator of Corruption Studies ROMAN KUPCHINSKY did not fully agree with Kuzio's assessments of Yushchenko or Ukraine. He outlined three major problems that are feeding the conflict between Russia and Ukraine. The biggest, he argues, is that the state-controlled Russian gas giant Gazprom holds a monopoly on natural-gas sales outside the CIS. Kupchinsky also decried Ukraine's consumption of natural gas, terming it "out of control." Corruption is also a major factor in the conflict, Kupchinsky said, although the extent to which it taints the deal struck between Russia and Ukraine remains unknown.
LISTEN
Listen to the complete panel discussion (about 90 minutes):
Real Audio Windows Media
RELATED ARTICLES