The move came in response to a decision by neighboring Ukraine not to allow in goods from Transdniester unless they were cleared by Moldovan customs.
Transdniester's separatist leaders say the new rules amount to "an economic blockade" and accuse Ukraine of taking Moldova's side in the conflict. Smirnov said on March 7 that "Ukraine is becoming the main tool in helping Moldova reach its political [aims]."
Smirnov said on March 7 that, in such conditions, "all negotiations" have become "totally pointless."
Russia said the Ukrainian move was aimed at putting economic pressure on Transdniester.
Ukraine called on March 7 for international talks to discuss the situation on its border with Moldova.
Transdniester, a largely Russian-speaking region, broke away from Moldova in the early 1990s.
Talks led by the Organization for Security and Cooperation in Europe (OSCE) have made little progress toward resolving the issue of Transdniester's status.
(Interfax-Ukraine, AFP)
The Transdniester Conflict
The Transdniester Conflict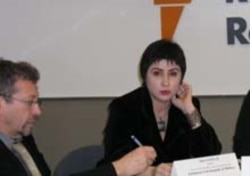 Stela Jantuan, head of the Information, Analysis, and Prognosis Service of the Moldovan parliament (RFE/RL)

FROZEN CONFLICT: On January 11, 2006, RFE/RL's Washington office hosted a panel discussion on prospects for settling the Transdniester conflict. The roundtable featured STEFAN GLIGOR and STELA JANTUAN of the Information, Analysis, and Prognosis Service of the Moldovan parliament and ALEXANDRU FLENCHA, head of the information and analysis division of Moldova's Ministry of Reintegration.
LISTEN
Listen to the complete panel discussion (about 90 minutes):

Real Audio
Windows Media
TALKS CONTINUE. The conflict between the Republic of Moldova and the unrecognized, separatist Transdniester Republic has festered for more than 15 years. A decade of talks supervised by the OSCE, Russia, and Ukraine have stagnated, while allegations mount concerning the involvement of Transdniester separatists in money-laundering and trafficking in arms, drugs, and human beings. What are the current prospects for settling this frozen conflict? (more)
ARCHIVE
An archive of RFE/RL's coverage of Transdniester.