PRAGUE, March 7, 2006 (RFE/RL) – The sniper shot Mubdir Hatim al-Dulaymi through the head. And he did it during the few seconds it took the general -- who was wearing body armor -- to put on his helmet after stepping out of his car.
That was as the general returned to his headquarters in a convoy of 14 armored vehicles and amid what would have been a hubbub of cars parking, doors opening, and men moving about.
Charles Heyman, former editor of Jane's World Armies in London, says that means the sniper likely had precise information about the general's movements.
"Nobody really knows exactly what's happened and it will probably take a few hours for the situation to become clearer," Heyman told RFE/RL. "But we are pretty sure that it is an assassination and not really a random shooting. That this was probably planned, there was probably some inside information."
Conflicting Reports, Unconfirmed Rumors
There are conflicting reports of a gun battle breaking out at the same time the general was killed. Some witnesses have told news agencies that many shots were fired and other troops were wounded. However, the reports remain unconfirmed.
Heyman says it is impossible say who might have wanted the general killed because al-Dulaymi, as commander of the 6th Iraqi Army Division, was in a position to have many enemies.
High on the list are Iraq's insurgents, whom the 6th division regularly battles as part of its job of securing part of Baghdad.
But lately the 6th division has also been trying to restore order amid sectarian clashes in Baghdad that have taken hundreds of lives.
That widens the list of possible suspects to include both Shi'ite and Sunni militias.
Power Struggle?
There is also the possibility that al-Dulaymi was killed by rivals within the Iraqi military or government itself, by people who might have viewed him as a powerful player in a position to thwart them.
Reuters reports that senior U.S. officers have long complained about efforts by some parties in the Iraqi government to put their own loyalists in top police and Defense Ministry posts. That has generated conflicts over who has responsibility for what and where. The task of securing Baghdad is divided between the U.S.-led coalition, the Iraqi Army, the police, and some militias who guard their own areas.
Heyman says that, for now, all this makes it much too soon to rule out anything out regarding motives for the killing.
"There is probably a 50-50 chance that it may not be linked to the insurgency," Heyman says. "It may be more linked to internal pressures inside the Iraqi Army. But it's early days, and no one knows for certain."
The Pride Of The Army
Al-Dulaymi, who was a Sunni Muslim, is the most senior Iraq officer to be killed in Iraq since the U.S. invasion. The 10,000-strong 6th division is one of the best equipped and strongest of Iraq's military units.
Washington has expressed sorrow at the general's death but vowed it will not slow the process of securing Iraq.
U.S. commander in Iraq General George Casey said in a statement that "this tragic incident will neither impede the 6th Iraqi Army Division from continuing its mission of securing Baghdad or derail the formation of the government in Iraq."
Iraqi President Jalal Talabani said on March 6 that he will convene the parliament on March 12 in an effort to form a new government some three months after Iraq's December 15 parliamentary poll.
But it remains uncertain whether the deputies can form a government amid continued wrangling over who will be prime minister.
Kurdish, Sunni, and secular parties have said incumbent Prime Minister Ibrahim al-Ja'fari is unable to control sectarian unrest and should not lead efforts to form the next government. They have called on the dominant Shi'ite coalition to find another candidate, instead.
Reactions To The Samarra Attack
Reactions To The Samarra Attack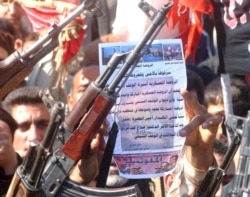 Demonstrators in Baghdad on February 23 (epa)
Iraqi religious and government leaders, as well as international officials, condemned the February 22 bomb attack that wrecked the Golden Mosque, a major Shi'ite Muslim shrine in Samarra. Below is a selection of statements on the incident.

"This new ugly crime comes as a warning that there is a conspiracy against the Iraqi people to spark a war among brothers. God willing, we will not allow this.... We must cooperate and work together against this danger, the danger of civil war. This is the fiercest danger because it threatens our unity and our country with a devastating civil war." -- Iraqi President Jalal Talabani

"The timing of this crime indicates that one of its aims is to stall the political process and to hamper the negotiations on the formation of a national-unity government." -- President Talabani

"I announce on this occasion three days of mourning. I hope our heroic people will take more care on this occasion to bolster Islamic unity and protect Islamic brotherhood and Iraqi national brotherhood." -- Iraqi Prime Minister Ibrahim al-Ja'fari

"Oh honorable people of Samarra! We should stand as one, united in confronting terrorism.... This assault is an assault on all Muslims." -- Iraqi Interior Minister Bayan Jabur

"They will fail to draw the Iraqi people into civil war as they have failed in the past." -- Iraqi National Security Adviser Muwaffaq al-Rubay'i

"If the security systems are unable to secure necessary protection, the believers are able to do so with the might of God." -- Shi'ite spiritual leader Grand Ayatollah Ali al-Sistani

"We will not only condemn and protest but we will act against those militants. If the Iraqi government does not do its job to defend the Iraqi people we are ready to do so." -- Shi'ite cleric Moqtada al-Sadr, speaking through spokesman Abdel Hadi al-Darajee
(compiled by Reuters)

For more reactions, click here and here.



Click the image to view RFE/RL's complete coverage of events in Iraq and that country's ongoing transition.