PRAGUE, March 3, 2006 (RFE/RL) – It's nearly 10 days since the bombing of a key Shi'ite mosque in Samarra on February 22 and the death toll has climbed to nearly 450 people.
Today, a government ban on the use of private cars in Baghdad is back in force in an effort to prevent new car bombings during Friday prayers. The one-day ban repeats a similar curb put into effect last Friday.
So far, such measures and calls for calm from political and religious leaders have brought a gradual decline in the level of violence. But they are far from ending a crisis that has seen the worst sectarian unrest in Iraq since the U.S. invasion in 2003.
Now, efforts to form a government are crumbling as a result. Kurdish, Sunni, and secular parties said on March 2 that they will not support the dominant Shi'ite coalition's choice of incumbent Prime Minister al-Ja'fari to form the next Iraqi government.
They told reporters that al-Ja'fari has failed to contain the sectarian violence. Specifically, they fault him for the delay in imposing a curfew last week, saying that allowed attacks to spiral out of control.
"We, the Kurdistan Coalition List, and the Sunni list [Iraqi Accordance Front] and Dr. [Iyad] Allawi's list, the Iraqi National List, we have asked the Shi'ite alliance list to nominate another candidate because we think it's not easy to have another few years with Mr. al-Ja'fari," Mahmud Uthman, an independent Kurdish parliamentarian, told RFE/RL.
The parties want the dominant Shi'ite coalition, the United Iraqi Alliance, to drop its support for al-Ja'fari and choose a new person to try to form the next government.
Subject Of Contention
Al-Ja'fari was nominated by the Shi'ite coalition -- which is largely made up of religious parties -- after defeating Vice President Adil Abd al-Mahdi by just one vote on February 12. Al-Ja'fari is reported to have won the vote only with the support of radical cleric Muqtada al-Sadr.
This relationship between al-Ja'fari and al-Sadr has become increasingly controversial over the past days.
Many Sunni leaders accuse al-Sadr's militia, the Imam Al-Mahdi Army, of organizing reprisal attacks on their community following the Samarra mosque bombing. Al-Sadr, whose camp denies such charges, has called publicly for calm.
At the same time, many Kurds say they have run out of patience for what they say is steady support from al-Ja'fari for religious groups and their militant wings. They say that is at the expense of the secular groups -- like the Kurdish parties -- that now cooperate in his government.
Increasing Sectarian Tension
Kurdish political analyst Jabar Qadir, based in Holland, told RFE/RL that the Kurds worry the religious parties are trying to promote a more central role for religious law in Iraqi society. Al-Ja'fari himself is a top leader of one of the largest Shi'ite religious parties.
"People are thinking that it was maybe a mistake that the Kurds agreed to have a coalition with al-Ja'fari [in the current government] because of [the religious parties' tendency] to use religion in the political and social life of Iraq and in the departments of the government," Qadir said. "I think for the Kurdish list and the Kurdish community, these are not considered to be good points."
Among other things, Kurdish leaders also fault al-Ja'fari for slowness to address their demand to include the oil-rich city of Kirkuk and other areas within the Kurdish autonomous region.
If the Shi'ite coalition now refuses the demand to drop al-Ja'fari, efforts to form a new government could be delayed by weeks more of political jockeying.
So far, al-Ja'fari is showing defiance. An aide, Haidar al-Ibadi, said on March 2 that "there are some elements who have personal differences with Mr. al-Ja'fari. The [United Iraqi] Alliance is still sticking to its candidate."
But the parties seeking to force out al-Ja'fari say they are ready to form a single bloc to try to form a government without the support of the United Iraqi Alliance if necessary. It remains to be seen if they could unify sufficiently to do so.
(RFE/RL regional analyst Kathleen Ridolfo contributed the interview with Mahmud Uthman to this report.)
Reactions To The Samarra Attack
Reactions To The Samarra Attack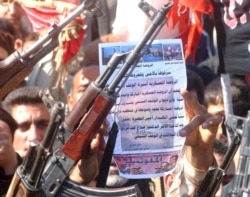 Demonstrators in Baghdad on February 23 (epa)
Iraqi religious and government leaders, as well as international officials, condemned the February 22 bomb attack that wrecked the Golden Mosque, a major Shi'ite Muslim shrine in Samarra. Below is a selection of statements on the incident.

"This new ugly crime comes as a warning that there is a conspiracy against the Iraqi people to spark a war among brothers. God willing, we will not allow this.... We must cooperate and work together against this danger, the danger of civil war. This is the fiercest danger because it threatens our unity and our country with a devastating civil war." -- Iraqi President Jalal Talabani

"The timing of this crime indicates that one of its aims is to stall the political process and to hamper the negotiations on the formation of a national-unity government." -- President Talabani

"I announce on this occasion three days of mourning. I hope our heroic people will take more care on this occasion to bolster Islamic unity and protect Islamic brotherhood and Iraqi national brotherhood." -- Iraqi Prime Minister Ibrahim al-Ja'fari

"Oh honorable people of Samarra! We should stand as one, united in confronting terrorism.... This assault is an assault on all Muslims." -- Iraqi Interior Minister Bayan Jabur

"They will fail to draw the Iraqi people into civil war as they have failed in the past." -- Iraqi National Security Adviser Muwaffaq al-Rubay'i

"If the security systems are unable to secure necessary protection, the believers are able to do so with the might of God." -- Shi'ite spiritual leader Grand Ayatollah Ali al-Sistani

"We will not only condemn and protest but we will act against those militants. If the Iraqi government does not do its job to defend the Iraqi people we are ready to do so." -- Shi'ite cleric Moqtada al-Sadr, speaking through spokesman Abdel Hadi al-Darajee
(compiled by Reuters)

For more reactions, click here and here.



Click the image to view RFE/RL's complete coverage of events in Iraq and that country's ongoing transition.