PRAGUE, 1 March 2006 (RFE/RL) -- By midday Baghdad time today, two new explosions had already taken 17 more lives.
A car bomb in eastern Baghdad killed 14 people in a mainly Shi'ite district. while just hours earlier, a bomb detonated under a car as a police patrol passed by, killing three more civilians.
The latest bombings come as sectarian tensions remain high a week after an explosion badly damaged the Golden Mosque in Samarra.
That blast set off a wave of tit-for-tat reprisals and attacks on mosques as rival Shi'ite and Sunni militants took to the streets. The violence took 60 lives in the capital on 28 February.
One blast occurred on a crowded main street in the Karrada district of central Baghdad.
"A man with blue Daewoo [car] came to laborers gathering in Baghdad al-Jadida to ask for workers," a witness told Reuters. "He said he has some work to do and he needs workers. A big blast and heavy fires took place when he put his hand in his pocket. We condemn this act."
Across town, in the Al-Amin quarter of the neighborhood known as New Baghdad, a blast at a gasoline station took other lives. A witness to that blast told Reuters he thought it was caused by a suicide bomber. His account could not be immediately verified.
"A man wearing an explosive belt or a bomb hidden in a jerry can exploded and killed the people," the witness said. "If the government cannot do anything, let it step back. We have suffered enough, an arm is here and a leg is there. Why does all this happen to us? Is it because we are Shi'a? Our crime is being Shi'a."
Bombing Saddam's Memory
Amid the blasts on 28 February, there was also the bombing of a site closely associated with the family of Saddam Hussein. The explosion, which caused no injuries, damaged a small mosque in Tikrit built over the grave of Hussein's father.
The targeting of the mosque provided one more measure of the sectarian fissures in Iraqi society, which many observers say were deepened by Hussein's regime.
Hussein based his power in the Sunni minority while repressing Iraq's majority Shi'a. Today, he remains a hated symbol for Shi'a but a hero for some Sunni militants who say democracy in Iraq could reduce the Sunnis' power.
Washington Worried
The flaring of sectarian violence -- the worst since U.S. troops entered Iraq almost three years ago -- is seen as a major crisis by Washington.
U.S. President George W. Bush said on 28 February that he has called numerous Iraqi leaders to urge calm. "This weekend, I spoke to seven of the Iraqi leaders," he said. "They understood the seriousness of the moment. They have made their choice, which is to work toward a unity government."
Iraqi Prime Minister Ibrahim al-Ja'fari vowed again today to continue negotiations aimed at forming a national-unity government in the wake of parliamentary elections in December
"We will continue with the interparty talks," al-Ja'fari said. "The government will be set up soon. The government will be broad-based."
Reactions To The Samarra Attack
Reactions To The Samarra Attack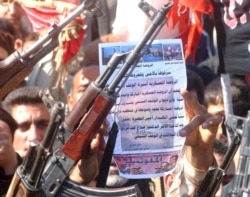 Demonstrators in Baghdad on February 23 (epa)
Iraqi religious and government leaders, as well as international officials, condemned the February 22 bomb attack that wrecked the Golden Mosque, a major Shi'ite Muslim shrine in Samarra. Below is a selection of statements on the incident.

"This new ugly crime comes as a warning that there is a conspiracy against the Iraqi people to spark a war among brothers. God willing, we will not allow this.... We must cooperate and work together against this danger, the danger of civil war. This is the fiercest danger because it threatens our unity and our country with a devastating civil war." -- Iraqi President Jalal Talabani

"The timing of this crime indicates that one of its aims is to stall the political process and to hamper the negotiations on the formation of a national-unity government." -- President Talabani

"I announce on this occasion three days of mourning. I hope our heroic people will take more care on this occasion to bolster Islamic unity and protect Islamic brotherhood and Iraqi national brotherhood." -- Iraqi Prime Minister Ibrahim al-Ja'fari

"Oh honorable people of Samarra! We should stand as one, united in confronting terrorism.... This assault is an assault on all Muslims." -- Iraqi Interior Minister Bayan Jabur

"They will fail to draw the Iraqi people into civil war as they have failed in the past." -- Iraqi National Security Adviser Muwaffaq al-Rubay'i

"If the security systems are unable to secure necessary protection, the believers are able to do so with the might of God." -- Shi'ite spiritual leader Grand Ayatollah Ali al-Sistani

"We will not only condemn and protest but we will act against those militants. If the Iraqi government does not do its job to defend the Iraqi people we are ready to do so." -- Shi'ite cleric Moqtada al-Sadr, speaking through spokesman Abdel Hadi al-Darajee
(compiled by Reuters)

For more reactions, click here and here.



Click the image to view RFE/RL's complete coverage of events in Iraq and that country's ongoing transition.