PRAGUE, 26 February 2006 (RFE/RL) -- Fearful of civil war, Iraq's religious and political leaders are trying to ease sectarian tensions since the bombing of the Golden Mosque in Samarra.
Today, radical Shi'ite cleric Muqtada al-Sadr appeared at a rally in the southern city of Al-Basrah to call for Muslim unity.
Al-Sadr summoned his many followers to hold joint Friday prayers on 3 March at Sunni mosques, especially those damaged in the past days' violence. ''I call on all believers, Sunnis and Shi'a, to be brothers, as the Prophet Muhammad did.''
''I call for unified prayers among Sunni and Shi'a, to include the mosques that have been targeted and the ones that haven't," he continued. "There is no such thing as Sunni or Shi'ite mosques."
Violence Continues Across Iraq
Shortly afterward, there was an explosion in a Shi'ite mosque in another part of Al-Basrah. Police said they suspected three men wounded in the attack were planting the bomb when it exploded prematurely.
In the Iraqi town of Al-Hillah, a bomb reportedly killed five people today. The Al-Hillah area is part of a cluster of towns in a religiously mixed area south of the Iraqi capital Baghdad where Sunni insurgents are active.
Meanwhile, strict security measures remain in force in Baghdad. The streets of the city remained quiet today with a traffic ban extended until 27 February to reduce the threat of further violence.
Iraqi police Lieutenant Mahmud Murtadha told Reuters today in Baghdad that people seem to be cooperating with the authorities. "The citizens' cooperation with us is remarkable. They enforced the curfew," he said. "We are only allowing those who have necessary and urgent cases to pass.''
Defense Minister Sa'dun al-Dulaymi warned on 25 February of the risk of endless "civil war" in Iraq as the sectarian violence spread.
Iraqi Prime Minister Ibrahim al-Ja'fari and President Jalal Talabani were among senior Iraqi political leaders who met for talks the same day aimed improving the security situation.
Reactions To The Samarra Attack
Reactions To The Samarra Attack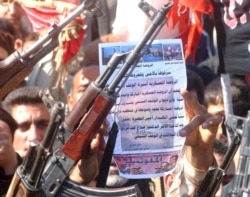 Demonstrators in Baghdad on February 23 (epa)
Iraqi religious and government leaders, as well as international officials, condemned the February 22 bomb attack that wrecked the Golden Mosque, a major Shi'ite Muslim shrine in Samarra. Below is a selection of statements on the incident.

"This new ugly crime comes as a warning that there is a conspiracy against the Iraqi people to spark a war among brothers. God willing, we will not allow this.... We must cooperate and work together against this danger, the danger of civil war. This is the fiercest danger because it threatens our unity and our country with a devastating civil war." -- Iraqi President Jalal Talabani

"The timing of this crime indicates that one of its aims is to stall the political process and to hamper the negotiations on the formation of a national-unity government." -- President Talabani

"I announce on this occasion three days of mourning. I hope our heroic people will take more care on this occasion to bolster Islamic unity and protect Islamic brotherhood and Iraqi national brotherhood." -- Iraqi Prime Minister Ibrahim al-Ja'fari

"Oh honorable people of Samarra! We should stand as one, united in confronting terrorism.... This assault is an assault on all Muslims." -- Iraqi Interior Minister Bayan Jabur

"They will fail to draw the Iraqi people into civil war as they have failed in the past." -- Iraqi National Security Adviser Muwaffaq al-Rubay'i

"If the security systems are unable to secure necessary protection, the believers are able to do so with the might of God." -- Shi'ite spiritual leader Grand Ayatollah Ali al-Sistani

"We will not only condemn and protest but we will act against those militants. If the Iraqi government does not do its job to defend the Iraqi people we are ready to do so." -- Shi'ite cleric Moqtada al-Sadr, speaking through spokesman Abdel Hadi al-Darajee
(compiled by Reuters)

For more reactions, click here and here.



Click the image to view RFE/RL's complete coverage of events in Iraq and that country's ongoing transition.