The attack by insurgents succeeded in skewing the already contentious relations between Sunnis and Shi'a, leaving the country on the brink of chaos. The violence that erupted following the attack led to the deaths of more than 50 Sunnis. Dozens of Sunni mosques were also attacked, some burned to the ground. The offices of Sunni political parties were also targeted.
The attack represents another attempt by insurgents to chip away at any political progress in Iraq. Iraqi political parties have been engaged in contentious talks over the composition of the incoming government for weeks, with Sunnis and Kurds calling for a national-unity government, while some Shi'ite leaders have maintained that as the winners of the parliamentary elections, it is their right to dominate the future cabinet.
In addition to the very public political wrangling taking place, tensions were heightened in recent weeks over reports that Shi'ite militiamen linked to the Interior Ministry were engaged in detaining, torturing, and killing Sunni Arabs, including clerics.

Iraqi President Jalal Talabani was expected to convene parliament on 25 February for a crucial vote on the Shi'ite nomination of Ibrahim al-Ja'fari to the premiership.
Now, the government has called a three-day mourning period, and the Sunni-led Iraqi Accordance Front has backed out of talks sponsored by Talabani aimed at calming the situation. Hand-in-hand with statements urging national unity, political and religious leaders began laying blame on co-religionists and multinational forces.
Such behavior is not surprising given the atmosphere that preceded the bombing. In addition to the very public political wrangling taking place, tensions were heightened in recent weeks over reports that Shi'ite militiamen linked to the Interior Ministry were engaged in detaining, torturing, and killing Sunni Arabs, including clerics.
Added to the increase in kidnappings and assassinations came a growing awareness of increasing economic woes, marked by mass fuel and electricity shortages.
The release of cartoons depicting the Prophet Muhammad served to deepen schisms between Iraqis and multinational forces -- particularly Danish troops serving in Iraq. Community relations also appeared to suffer from the cartoons; six churches were bombed following the eruption of the cartoon scandal. Last week's release of a 2003 videotape depicting British soldiers beating Iraqi youths only fanned the flames, prompting the governorate councils of Al-Najaf and Maysan to cut ties with U.K. forces.
Sunni Arabs Blame 'Occupation,' Political Enemies
The Sunni-led Muslim Scholars Association spread the blame, saying that the presence of multinational forces provoked the attack, while unnamed political leaders fanned the flames of sectarianism.
The association said on 22 February that the "occupation" of Iraq led to the attack. "The association has always warned that as long as the occupation remains, the sanctities of Muslims will be desecrated and targeted, and matters in our country will only go from bad to worse," declared the organization's General Secretariat in a statement posted to its website.
Meanwhile, association spokesman Muthanna Harith al-Dari contended that the attack was "a plot by the occupation and some political groups," and, in an interview with Al-Arabiyah television, pointed to an Internet statement that was circulated on 21 February calling for an uprising in the name of the Shi'a in order to change the political formula in the country. Other association members maintained similar positions in interviews with Arab satellite channels.
A day later, the association indirectly blamed Shi'ite Grand Ayatollah Ali al-Sistani for the escalation in violence after al-Sistani called on Shi'a to take to the streets for peaceful demonstrations on 22 February.
In Samarra, mosque speakers blared "Death to America for bringing terrorism to Iraq," egging on demonstrators. In Al-Najaf, demonstrators chanted, "Rise up Shi'a, Shi'a take revenge."
Speaking to reporters at a 23 February press briefing in Baghdad, association member Abd al-Salam al-Kubaysi said: "The Muslim Scholars Association points the finger of blame [for provoking violence] at certain Shi'ite religious authorities for calling for demonstrations when they know very well that our borders are open and our country is infiltrated and, as a result, we cannot control the streets."
Adnan al-Dulaymi, head of the Sunni group Iraqi Accordance Front, told Al-Sharqiyah television on 22 February that "suspicious parties continue to commit acts aimed at planting the seeds of sedition and triggering a civil war" in Iraq, in what appeared to be a veiled reference to Iran.
Speaking to Al-Jazeera television, al-Dulaymi said the "enemies of Iraq" had planned the attack to prevent the formation of a national-unity government. Turning to the Shi'ite demonstrations and attacks on Sunnis that ensued, he said: "It is clear that they were planned and organized acts. Our brothers the Shi'a listen to, and obey their religious authorities. The crowds attacked and burned our mosques."
Iraqi National Dialogue Council Secretary-General Khalaf al-Ulayyan pointed the finger at unnamed foreign intelligence forces in a 23 February press conference in Baghdad, another apparent reference to Iran.
Shi'a Also Blame U.S., Sunni Clerics
Shi'ite ayatollahs were quick to put the blame on Sunni clerics. The Shi'ite news agency ebaa.net reported on 22 February that Ayatollah Muhammad al-Ya'qubi called on Sunni scholars to "bare their responsibility for these heinous crimes when considering their provocative sermons." Ayatollah Muhammad Taqiy al-Mudarrisi also called on Sunni clerics to take a more decisive stand on the violence plaguing Iraq. "Sunni scholars in Iraq must confront the sectarian sedition being fomented by some ignorant people, and their denunciation of these acts must be of a level befitting the crimes being committed," ebaa.net quoted him as saying.
Hizballah claimed in a statement that the U.S. "occupation authorities" and their agents in Iraq were seeking to foment sedition "through their savage aggression" that does exhibit consideration for the dignity and sanctities of Muslims, Al-Manar television reported on 22 February. It was unclear whether the statement was issued by Lebanese Hizballah or Iraq's Hizballah Party.
Shi'ite cleric Muqtada al-Sadr, who was in Lebanon when the attack occurred, blamed all sides. Speaking to Al-Jazeera on 22 February, al-Sadr blamed all parties to the ongoing Iraq conflict for the attack. "It was not the Sunnis who attacked the shrine of Imam Al-Hadi...but rather the occupation; the Takfiris [those who accuse other Muslims of being infidels], Al-Nawasib [a derogatory reference to Sunnis referring to those declare hostilities against others]...and the Ba'athists," he said.
Rejecting 'Foreign Interference'
Shi'ite leader Abd al-Aziz al-Hakim told reporters at a 22 February press briefing that statements by U.S. Ambassador to Iraq Zalmay Khalilzad on 20 February calling for a national-unity government gave the green light to terrorists, adding that Khalilzad "shoulders part of the responsibility" for the attack.
Prime Minister al-Ja'fari had already criticized Khalilzad's remarks on 21 February, telling reporters that any decision to form a national-unity government would not be done "in compliance with a demand by an ambassador or something like that" but rather because Iraqis choose so. Al-Ja'fari, who has been under pressure at home for weeks to form a national-unity government, lashed out after British Foreign Secretary Jack Straw made similar statements.
"We don't need anyone to remind us.... The citizens have enough awareness and they can decide on this. We totally reject this. We will not allow any interference in our affairs and sovereignty by any country in the world. We have our own vision, too," Al-Ja'fari said.
Many of Iraq's Shi'a view Khalilzad's statements (similar ones have been made before) as part of what they call a blatant U.S. attempt to control the Shi'ite character of the incoming government -- not on the grounds of national unity, but rather on the assumption that the Shi'a are aligned with and under the influence of Iran.
Shi'ite Shrines In Samarra
Shi'ite Shrines In Samarra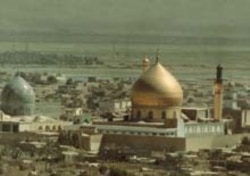 The Golden Mosque before the 22 February bombing (courtesy photo)

UNDER THE GOLDEN DOME: The Iraqi city of SAMARRA is the site of two major Shi'ite shrines. Consecrated in 852, the Golden Mosque is said to hold the remains of two Shi'ite imams: Ali al-Naqi and his son, Hasan al-Askari. A second shrine marks the place where the hidden -- or 12th -- imam, al-Mahdi, son of Hasan, went into hiding.
Imam Ali and Hasan were imprisoned in Samarra, the capital of the Abbasid Dynasty, by Al-Mutawakkil Ala Allah Jafar bin al-Mu'tasim (821-861), who is considered the last great Abassid caliph.
According to historical accounts, al-Mutawakkil felt threatened by the growing influence of Shi'ite Islam and Imam al-Naqi, who was based in Medina. Al-Mutawakkil thus brought Imam Ali and Hasan to Samarra in 848 and imprisoned them inside a military fort. Henceforth they became known as al-Askari (military) because of the location of their imprisonment.
Following al-Mutawakkil's death in 861, his successor had Imam Ali poisoned in 868. Hasan died in 874.
Imam Ali al-Naqi -- the 10th Shi'ite imam, commonly referred to as Imam Ali al-Hadi -- and his son, Hasan al-Askari, the 11th imam, are buried under the Golden Dome, which was a gift from Persian ruler Nasr al-Din Shah (1848-96). The dome's construction was completed in 1905. Also buried in the shrine are Hakimah Khatun, the sister of Imam Ali, and Nargis Kahtun, Imam al-Mahdi's mother.
The second shrine in the complex marks the place where Shi'a believe Imam al-Mahdi (b. 868), the 12th and final imam, went into hiding. According to Shi'ite tradition, Imam al-Mahdi, the son of Hasan al-Askari descended into a cellar under the present-day shrine and disappeared. Shi'a believe that he never died, and he will return on Judgment Day.
MORE: For more information on Shi'ite and Sunni sectarianism in Iraq, see:
Sunni-Shi'ite Tensions High On Eve Of Arab Conference
A Nation Finds Itself At A Crossroads
The Growing Sunni-Shi'a Divide