Gunmen apparently entered the mosque, which is north of Baghdad, in Samarra, at dawn today. They tied up the guards, planted three charges, and set them off.
The shrine's golden dome, one of the biggest in the Muslim world, was reduced to a shell of stonework and iron. Ten suspects have been detained in connection with the blast.
Shi'ite Demonstrations Across Iraq

The attack immediately set off protests in Samarra and across the country, with thousands demonstrating in Baghdad's Al-Sadr City.

"The occupier is responsible for these acts and we hold the occupier responsible for attacks on the holy shrines and on the people," one demonstrator said. "We, the people of this country and this oppressed city of Al-Sadr, urge the Iraqi government to put an end to the attacks on our religious symbols."

Two of the 12 Shi'ite imams -- Imam Ali al-Hadi who died in 868 A.D. and his son Imam Hasan al-Askari, who died in 874 A.D. -- are buried at the mosque. Shi'a also believe that Imam Mahdi, the 12th imam, went into hiding through a cellar in the mosque complex in 878, and is expected to return on Judgment Day.

Enflaming Sectarian Passions

No group has claimed responsibility for today's attack, but National Security Adviser Muwaffaq al-Rubay'i accused militants inspired by Al-Qaeda of trying to foment civil war.

Grand Ayatollah Ali al-Sistani, revered by millions of Shi'a, called for protests, but said they must be peaceful and involve no reprisals against Sunni mosques. He later called on Shi'a to refrain from retaliating against Sunni mosques after an apparent reprisal attack on a mosque in Al-Basrah. Reports said dozens of Sunni mosques had come under attack.

Iraqi President Jalal Talabani accused the bombers of trying to derail national unity, and Prime Minister Ibrahim al-Ja'fari appeared on television to appeal for calm.

"On this occasion, I declare three days of mourning to mark this tragic event," al-Ja'fari said. "I am fully confident that our heroic people will use this occasion to demonstrate a stronger determination to uphold Islamic unity, Islamic brotherhood, and Iraqi national brotherhood as well as safeguarding these achievements, while continuing to advance toward our greater aims and preserving national unity. This occasion should be an incentive for closing our ranks and frustrating those trying to strip up trouble. May peace and God's blessings be upon you."
International Condemnation

"This attack is a crime against humanity," U.S. Ambassador to Iraq Zalmay Khalilzad said. "The shrine should be rebuilt, and the United States will contribute to its reconstruction."

Jordan's King Abdullah and British Foreign Secretary Jack Straw denounced the blast as a "criminal act" designed to ignite conflict between Iraq's Sunni and Shi'ite Muslims.

Iran's Supreme leader, Ayatollah Ali Khamenei, has ordered a week of national mourning. He called on Shi'a to abstain from acts that would lead to a conflict between Muslims.

Iraq has seen other attacks on Shi'ite sites or gatherings. Among the deadliest were suicide bombings that killed 170 people at a Shi'ite festival in 2004. So far, they've failed to spark all-out reprisals against Sunnis.

There are no reports of casualties from today's attack in Samarra. But there's much outrage. At least one Sunni mosque in Baghdad has been targeted in apparent retaliation.

(Radio Farda, compiled from agency reports)
Shi'ite Shrines In Samarra
Shi'ite Shrines In Samarra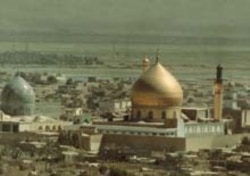 The Golden Mosque before the 22 February bombing (courtesy photo)

UNDER THE GOLDEN DOME: The Iraqi city of SAMARRA is the site of two major Shi'ite shrines. Consecrated in 852, the Golden Mosque is said to hold the remains of two Shi'ite imams: Ali al-Naqi and his son, Hasan al-Askari. A second shrine marks the place where the hidden -- or 12th -- imam, al-Mahdi, son of Hasan, went into hiding.
Imam Ali and Hasan were imprisoned in Samarra, the capital of the Abbasid Dynasty, by Al-Mutawakkil Ala Allah Jafar bin al-Mu'tasim (821-861), who is considered the last great Abassid caliph.
According to historical accounts, al-Mutawakkil felt threatened by the growing influence of Shi'ite Islam and Imam al-Naqi, who was based in Medina. Al-Mutawakkil thus brought Imam Ali and Hasan to Samarra in 848 and imprisoned them inside a military fort. Henceforth they became known as al-Askari (military) because of the location of their imprisonment.
Following al-Mutawakkil's death in 861, his successor had Imam Ali poisoned in 868. Hasan died in 874.
Imam Ali al-Naqi -- the 10th Shi'ite imam, commonly referred to as Imam Ali al-Hadi -- and his son, Hasan al-Askari, the 11th imam, are buried under the Golden Dome, which was a gift from Persian ruler Nasr al-Din Shah (1848-96). The dome's construction was completed in 1905. Also buried in the shrine are Hakimah Khatun, the sister of Imam Ali, and Nargis Kahtun, Imam al-Mahdi's mother.
The second shrine in the complex marks the place where Shi'a believe Imam al-Mahdi (b. 868), the 12th and final imam, went into hiding. According to Shi'ite tradition, Imam al-Mahdi, the son of Hasan al-Askari descended into a cellar under the present-day shrine and disappeared. Shi'a believe that he never died, and he will return on Judgment Day.
MORE: For more information on Shi'ite and Sunni sectarianism in Iraq, see:
Sunni-Shi'ite Tensions High On Eve Of Arab Conference
A Nation Finds Itself At A Crossroads
The Growing Sunni-Shi'a Divide